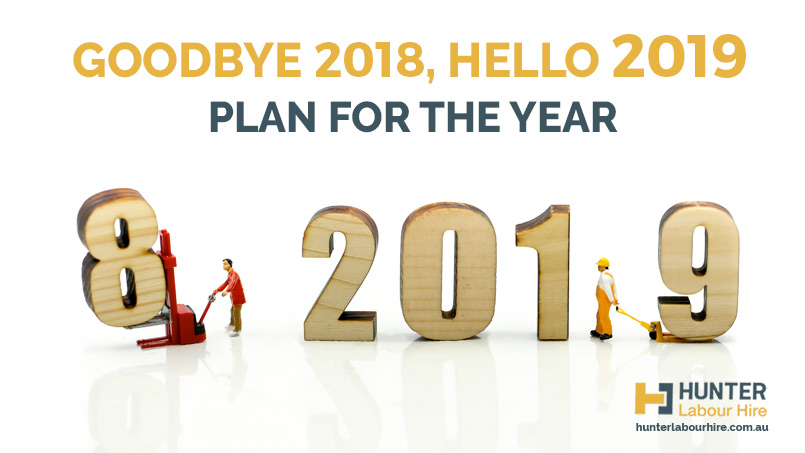 11 Jan

Goodbye 2018, Hello 2019 – Plan for the Year
A Record Setting 2018!
After a record setting 2018, and a great festive season, all the team at Hunter Labour Hire are back at their desks, and on the phones, meeting all needs and requests the January construction industry has to throw at us in 2019. In this post we'll highlight the epic staff party we had to say goodbye to 2018 in style and then outline our plans for 2019.
Staff Christmas Party – Well Earned Rewards
As 2018 drew to a close, Hunter Labour Hire experienced our busiest month to date in December. We gained some amazing clients and continued to expand our team with top quality labour hire candidates throughout the year, and because of this we have enhanced our reputation as one of Sydney's best construction recruitment agencies. This wouldn't be possible without the workers which represent us everyday on site, so we thought what better way to reward everyone for their hard work, than with a Christmas party.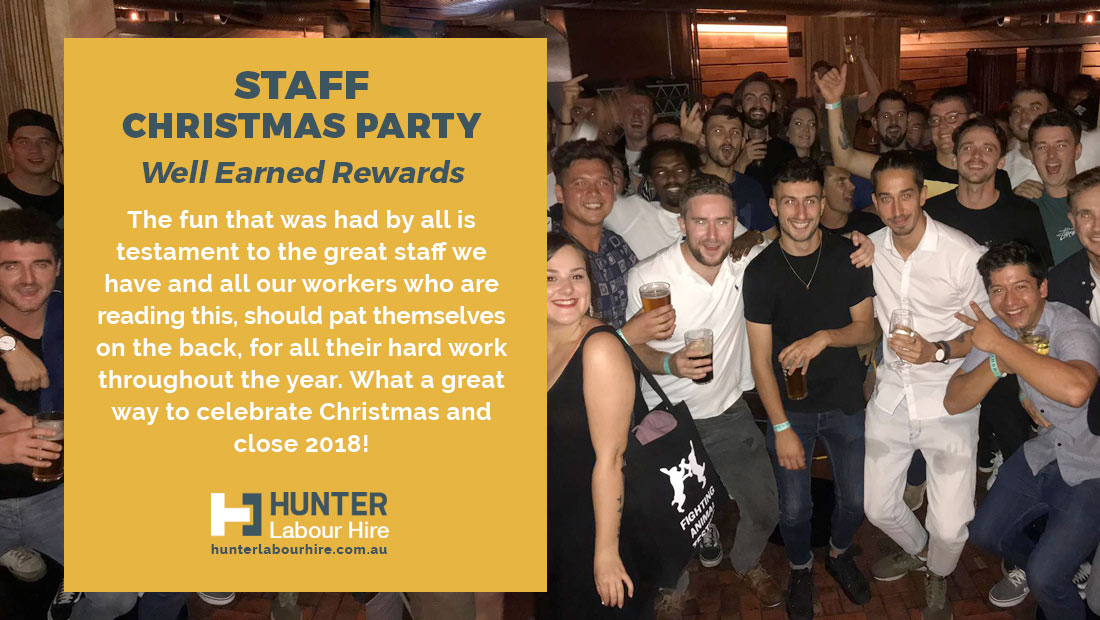 An All Expenses Paid Thank You
So, it all began on Friday the 21st, when the office staff were picked up from Bondi Junction and arrived at Darling harbour, only to be met by a torrential rain shower. This was the day after Sydney experienced a hailstorm, which can only be likened to the apocalypse, with the damage that was caused, so we were all waiting with bated breath to see if it would pass, or worsen. Like all summer loving folk, we decided to seek shelter in the closest licensed establishment and the night began there. Much to our delight, after a short time, the rain stopped, and the team made our way to All Hands Brewery where there was an area reserved for the HLH group. We set everything up and waited. At first the revelers were arriving in drips and drabs, however this soon changed. As everybody started to arrive in numbers, it quickly became apparent what was in store for everyone. The bar taps were well and truly open and remained open, with all expenses paid as a thank you to all our workers. The drinks flowed, and the night was a great success, and we hope there wasn't too many sore heads on Saturday morning.
"The fun that was had by all is testament to the great staff we have and all our workers who are reading this, should pat themselves on the back, for all their hard work throughout the year. What a great way to celebrate Christmas and close 2018!"
Back to Work – Plans for 2019
So, what does 2019 hold for everyone? Well, now that we are all back in the office, the talk is of hard work and healthy living. With an influx of packed lunches and salads on the menu, and lunch time/ post work gym sessions, all seems to be going to plan, however, being only one week into the year, lets see how long it lasts. There has been a lot of talk of a dry January, and plenty of New Year's resolutions, but only time will tell.
Over 400 Labour Hire Applicants in 2019 Already!
More importantly however, with regards to the business side of things, unlike the majority of labour hire services in Sydney, the office remained open and manned right up until Christmas eve, and was back open again following Boxing day. We've seen an extremely busy start to the year with, over 400 new applicants already this year. As you can imagine, this has meant the whole office team have our heads buried and the focus is mainly on satisfying all the needs of the construction industry. Traditionally January can be a funny month and can be slow for the industry to find its feet, however we have received plenty of requests for workers already, and are expecting this to grow as the month and year progresses.
Continued Office Growth – Welcome To The New Staff Members
The office has seen growth as well with three new staff members starting, and another position available, so please be sure to stop by and say hello to Amy, Rob and Mark. All staff, new and old, are primed and ready for what lies in the year as we continue to provide Sydney with the best in construction labour hire recruitment.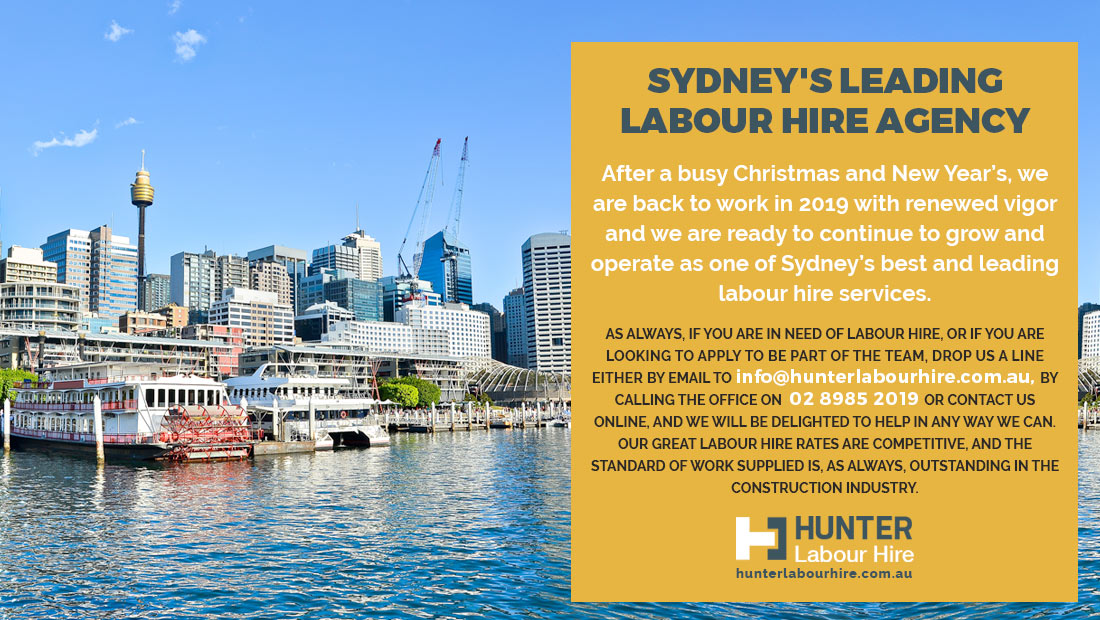 Sydney's Leading Labour Hire Agency
After a busy Christmas and New Year's, we are back to work in 2019 with renewed vigor and we are ready to continue to grow and operate as one of Sydney's best and leading labour hire services. As always, if you are in need of labour hire, or if you are looking to apply to be part of the team, drop us a line either by email to info@hunterlabourhire.com.au, by calling the office on 02 8985 2019 or contact us online, and we will be delighted to help in any way we can. Our great labour hire rates are competitive, and the standard of work supplied is, as always, outstanding in the construction industry.
We are expecting this year to be our busiest yet and we have big plans for it. Watch this space!