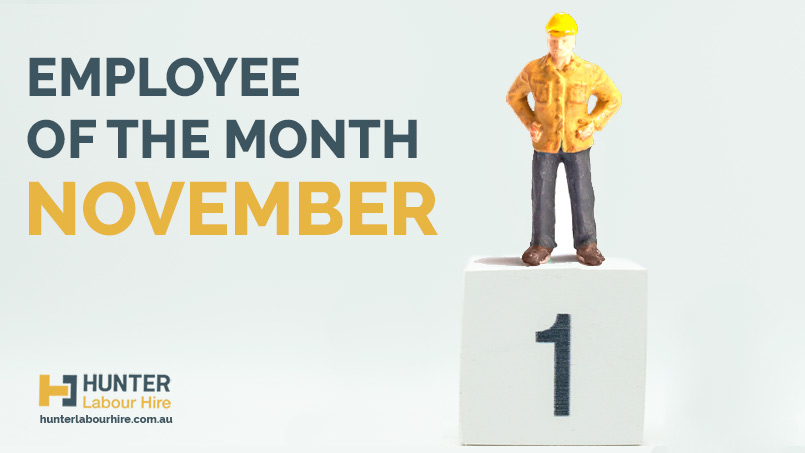 15 Dec

Employee of the Month – November
The November Employee of the Month
November was yet another record-breaking month for Hunter Labour Hire which is a credit to the outstanding efforts of our great team in the office and all our workers out on site. It was a tough choice this month due to the outstanding efforts from everyone, but we decided that employee of the month for November is Lukas Kanapin.
Full Time Employment For Solid Workers
Lukas joined HLH in mid-June because his previous labour hire recruiter couldn't offer him consistent work. At HLH we will always prioritise existing workers and do our upmost to keep them in full time labour hire employment over new workers so long as they receive great feedback, skilled and reliable. Lukas was interviewed during an extremely busy period so actually managed to get himself a start the next day. It was clear from the brilliant feedback we received on day one that Lukas fitted the mould and would be one of our top workers that we could keep busy consistently knowing we would never have any issues no matter where we sent him.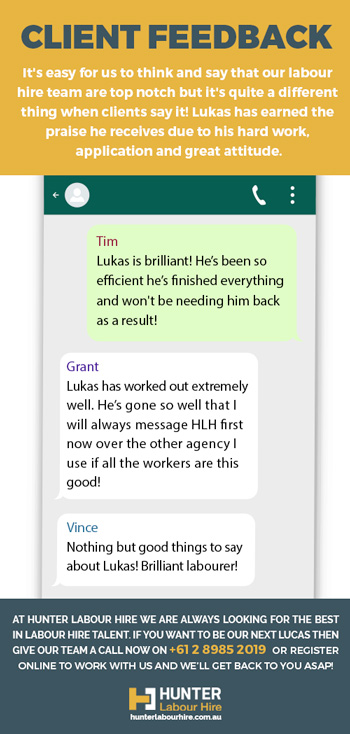 Client Feedback
It's easy for us to think and say that our labour hire team are top notch but it's quite a different thing when clients say it! Lukas has earned the praise he receives due to his hard work, application and great attitude.
Tim – Lukas is brilliant! He's been so efficient he's finished everything and won't be needing him back as a result!
Grant – Lukas has worked out extremely well. He's gone so well that I will always message HLH first now over the other agency I use if all the workers are this good!
Vince – Nothing but good things to say about Lukas! Brilliant labourer!
A Talented Skilled Labourer
Lukas is a skilled labourer who can turn his hand to any task, he is extremely comfortable using all power tools and regardless of the task in hand he works hard to ensure the client is completely satisfied. Lukas has worked for 12 different clients of ours, some of which he has returned to on more than one occasion (requested back specifically). His profile on our system has a total of 19 positive feedbacks and 0 negative. Safe in the knowledge that Lukas would go extremely well he has most recently started on one of our largest labour hire projects in Sydney which should see him through to the end of his WHV (even with the recent changes to the WHV). As expected, the client is extremely satisfied with his work already. Keep up the good work Lukas!
Words From Lucas
"With HLH you are just one call and an interview away to start your new job in Sydney!
I can highly recommend Hunter Labour Hire if you are looking for some construction work in Sydney. I've worked for different agencies in Sydney but never had such a pleasant experience. Communication is flawless, and they really are an agency who take care of you! My account manager Joe has been keeping me busy from day one and that's why I´ve been working with them for over 5 months now and I plan on being with them until I eventually leave Sydney mid next year".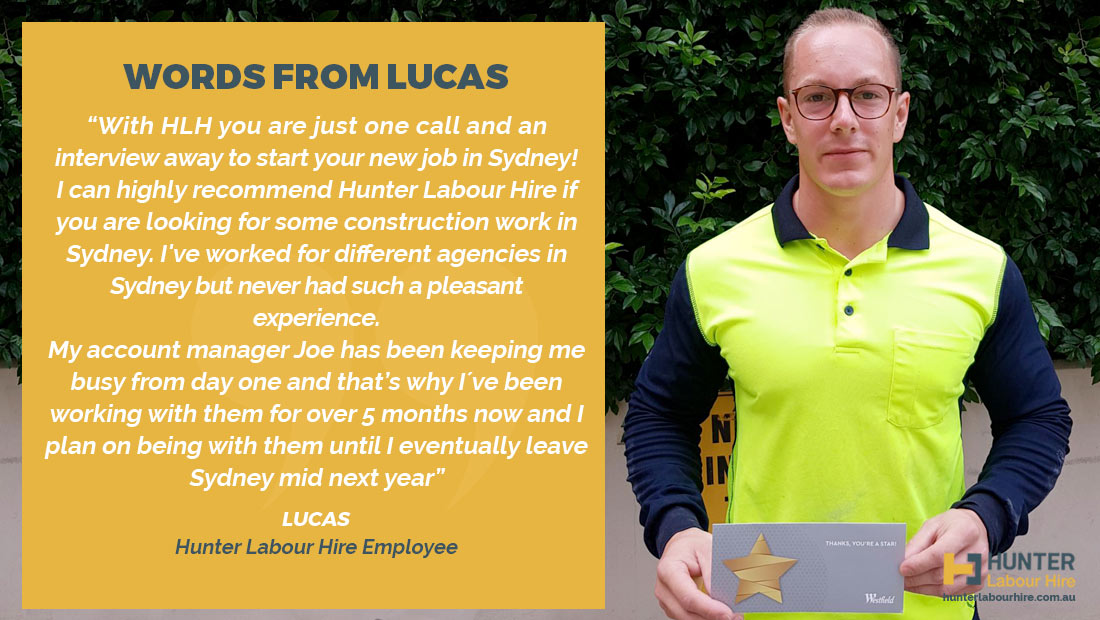 Labour Hire Jobs Available in Sydney
At Hunter Labour Hire we are always looking for the best in labour hire talent. If you want to be our next Lucas and think you have relevant experience and are eager to work in the Sydney labour hire industry then we want to hear from you! Give our team a call now on +61 2 8985 2019 or register online to work with us and we'll get back to you asap!