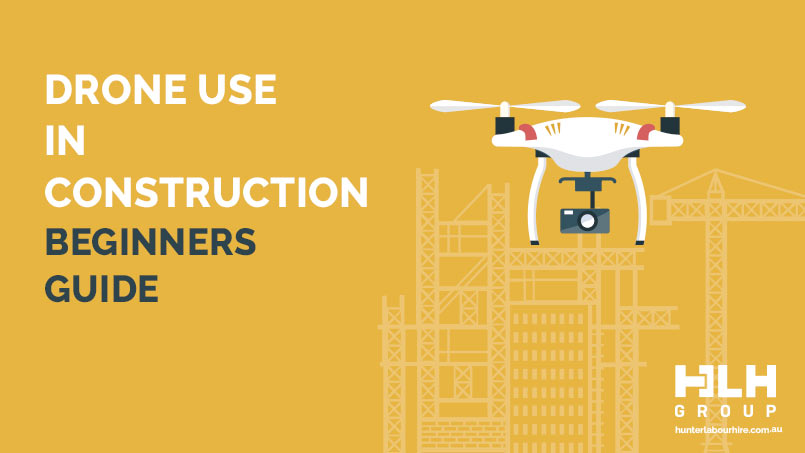 16 Mar

Drone Use in Construction: Beginners Guide
Drones and the Construction Industry
Drone and remotely piloted aircraft are one of the more recent technological developments in the construction industry. Advances in technology have made the drone an affordable tool for worksites. While they may seem like fancy pieces of equipment, in recent years the use of drones in construction has become no more unusual than a GPS rover but just as vital. Unlike traditional surveying equipment, however, you don't need a great depth of special training and education to use it.
How are Drones Used in Construction?
It's no surprise that project managers are leading the charge to bring drones to the job site. The typical project runs over budget and behind schedule and drones help close the gap as a cost-effective tool. Builders use drones to collect real-time data about projects and understand what's happening on their site. Project managers and site inspectors are frequently using drone technology to conduct job site inspections and identify any potential hazards/risks on their worksite. The key advantage of using a drone is that it allows site supervisors to observe the construction site from angles that cannot be reached without it. Aerial insights improve progress tracking and help catch problems early — before they become costly or add weeks to a project's timeline. A handful of industries—agriculture, energy, utilities, mining, real estate, news media, and of course, construction — will capture the majority of this commercial investment over the next several years.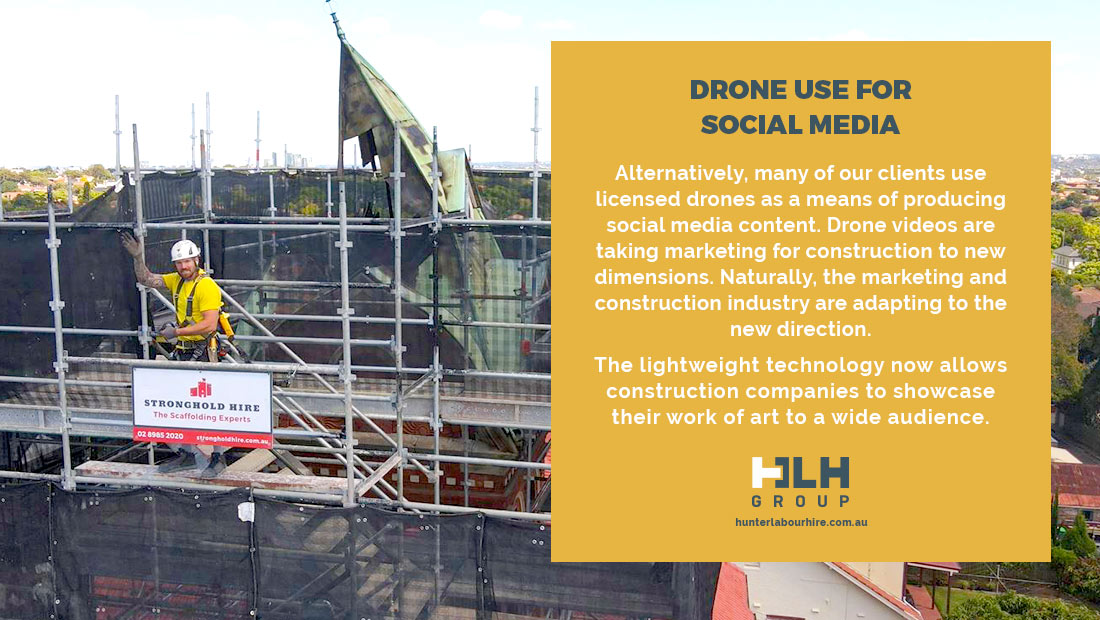 Drone Use for Social Media
Alternatively, many of our clients use licensed drones as a means of producing social media content. Drone videos are taking marketing for construction to new dimensions. Naturally, the marketing and construction industry are adapting to the new direction. The lightweight technology now allows construction companies to showcase their work of art to a wide audience. It's also worth noting that Facebook has already created a department called the Connectivity Lab, which is dedicated to creating aerial tech. As you are probably aware the construction industry is always changing and is extremely competitive within Australia. Therefore, gaining a competitive edge over your competition is more important than ever. Drone photography is one of the easiest ways to do so as it showcases your brand's recent projects in a unique way. Our marketing division – HLH Marketing offers a range of licensed aerial photography options to help you market your construction company to gain a competitive edge over rivals.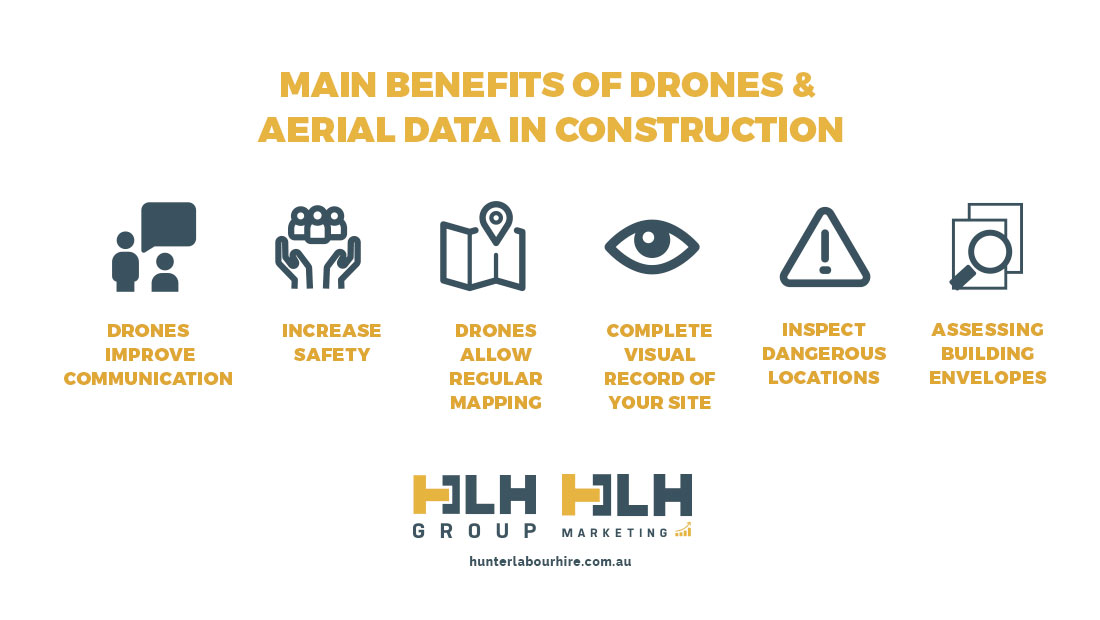 Main Benefits of Drones and Aerial Data in Construction
So, what are the benefits of using drones in the construction industry?
Drones improve communication and help keep projects on track.
Increase safety, save time and resources, fast-track surveying, and deliver accurate measurements.
Drones allow project managers to regularly map and model their jobsite, work more efficiently, and communicate easier.
Aerial imagery also allows you to build a complete, visual record of your site's progress and identify any conflicts early.
Drones can be used to inspect hard-to-reach or accessible but dangerous locations.
They are also ideal for assessing building envelopes or investigating a site for dangerous situations—eliminating the need for someone to scale up scaffolding or walk a site on foot.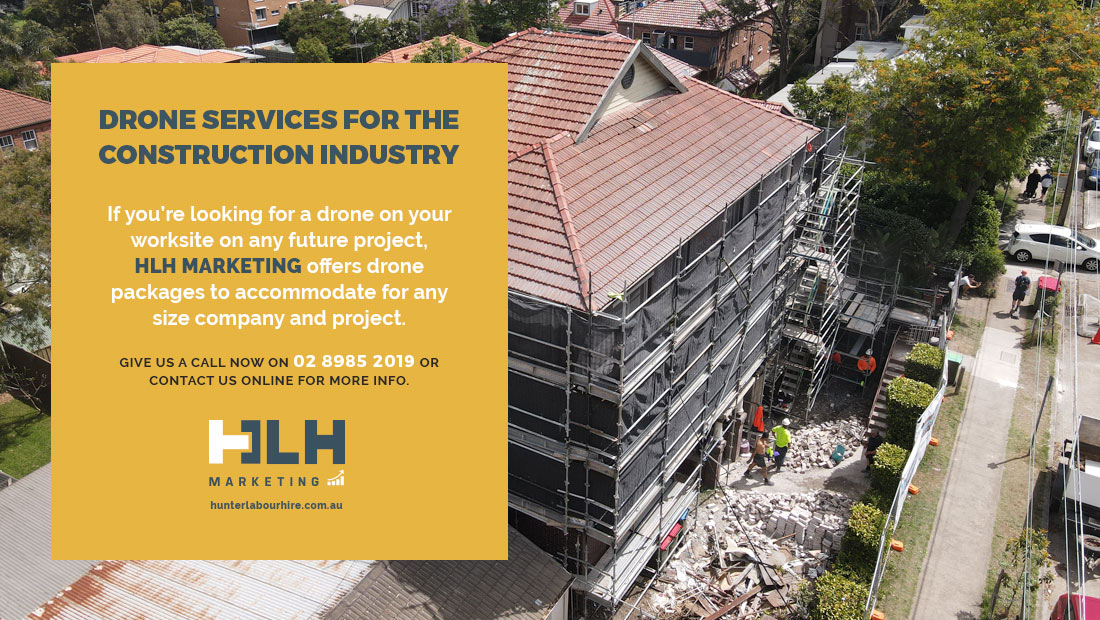 Drone Services for the Construction Industry
If you're looking for a drone on your worksite on any future project, HLH Marketing offers drone packages to accommodate for any size company and project. We can provide on-site HD colour corrected images to be used for site inspections and progress snapshots. Additionally, if you're looking for social media content from our drone service, we can provide you an Adobe Premiere professionally edited aerial video. Give us a call now on +61 2 8985 2019 or contact us online for more info.