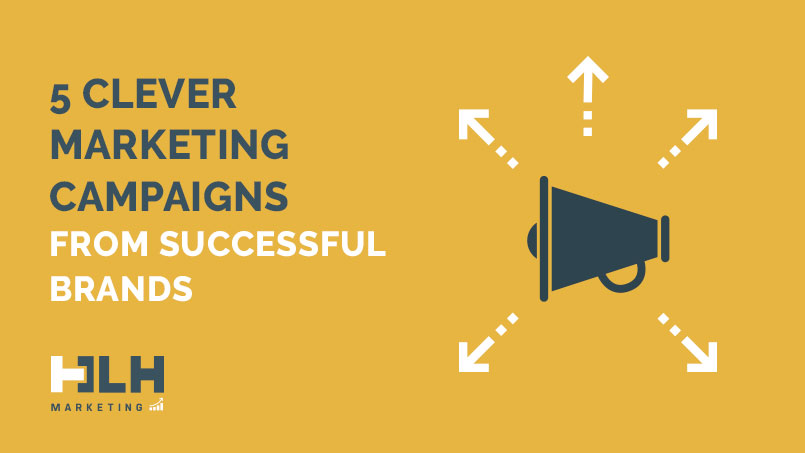 04 Nov

5 Clever Marketing Campaigns from Successful Brands
Clever Marketing Campaigns
With the latest technological innovations, anyone can become a marketer and create content on different digital platforms. The construction industry has seen a large boom resulting in more money to invest in the business. Many construction companies are turning towards construction marketing services as a means of using their capital. What you don't want to do is tarnish your construction company's reputation by posting mediocre marketing materials. So, we've curated five clever marketing methods used by other successful brands around the world. This should help inspire you and your marketing ventures. If not, you can always use a construction marketing agency like HLH Marketing to do the heavy lifting for you.
Coca-Cola – The Happiness Truck
56% of consumers believe that brands exploit social causes for commercial gain and marketing purposes. As a result, this is one of the causes of low levels of trust for large brands. But Coca-Cola has broken the stereotype by spreading "happiness."
In Brazil, Coca-Cola launched the "The Happiness Truck" campaign, in which a red truck drove the streets and gave away free Coca-Cola products and marketing materials to anyone who pressed the red button. To raise awareness, they posted a 30-second commercial on YouTube. It was so successful, they repeated the feat in Armenia and Istanbul after the commercial became popular.
The "sharing is caring" themed drive helped position the brand favourably on the global stage. They also received several awards for their successful marketing campaign.
Lendlease
Lendlease is one of Australia's largest construction companies with projects all over the world. Lendlease knows how to utilise its digital channels exceptionally. For instance, take their Instagram page – they control the narrative and showcase all of the incredible efforts the company does. Like the sizeable projects, they work on like New Balance HQ, North Sydney Metro Station, Waterman's Cove, etc. As well as their social responsibilities around carbon neutrality and more sustainable practices. Social media is a project portfolio for construction companies and should not be overlooked, it is more than just "putting up some fancy photos, here and there" as evidenced by this and this sample post.
UberEats – Tonight I'll Be Eating
UberEats nailed this marketing campaign! How many times have you seen a variation of one of these "Tonight I'll Be Eating" ads? Too many to count. UberEats specifically target and promote their ads from 5pm – 10pm when they know their viewers are more likely to be hungry or looking to order dinner. They specifically target large sporting events and games like the Australian Open, NRL Friday Night Football, Grand Finals, etc. They use iconic Australian celebrities to create more interest in the ad as well as leverage the trust of the celebrities' fanbase. For example, during the Australian Open, they used Nick Kyrgios as their poster boy as they knew people watching tennis knew of him. They've also had global celebrity Kim Kardashian promote their brand in Australia…and it worked. Unsurprisingly, the campaign gained widespread publicity and won various awards. It also generated 50 million media impressions, 20+ million organic views online, 90,000 shares on social media, had a 98% positive sentiment and increased brand preference by 18%.
We are not saying you need to work with celebrities to promote your construction company, but we are saying you need to tailor your content around your direct target audience. So, if you're a residential builder promote your builds showing the progress and final outcomes to attract new customers.
Australian Tourism – Come & Say G'Day
The Australian tourism commercial first appeared on TV in the middle of the American tourism boom in Australia. It was cleverly workshopped using typical Aussie slang and highlighting the beauty of Australia. The key element that made it blow up with success, was using Paul Hogan as the star. Paul Hogan was making international strides as an actor and the rest of the world was starting to discover the incredible country of Australia.
The most notorious takeaway from the campaign that still gets thrown around today is "I'll slip an extra shrimp on the barbie for you." The most incredible feat of the campaign in 1984 was everybody remembers this ad even though it was made for the North American market and only actually ever aired there. 30 years on and it is still regarded as one of the best Australian marketing campaigns.
How can your construction company learn from this marketing campaign? Well, it's the idea of creating viral content that is universally accepted and relevant. So, start thinking of some of the day-to-day activities of your company and if individual social media users would be interested in it.
Hutchinson Builders
The final example of successful marketing is Hutchinson Builders. As they already have an incredibly solid reputation, their main marketing focus is to showcase all their amazing work rather than find new clients. So rather than spend more raising brand awareness they invest their budget into creating interesting content via drone videography. Most of their projects are large office buildings located in Australian business capitals. They want to showcase to followers and those interested in their brand the scale of work they carry out. Drone photography is the perfect method to capture it all by highlighting the project's location, size, progress and design. We have drone packages suitable for any kind of company.
So, even though your construction company might not have the reputation and followers of Hutchinson Builders, it is important to maintain a solid presence online. Especially for companies that are completely booked out for the next 12 months. Don't stop posting content since you are busy, if anything you should be posting more knowing the abundance of content ideas and growing your brand's reputation to win bigger projects in the future.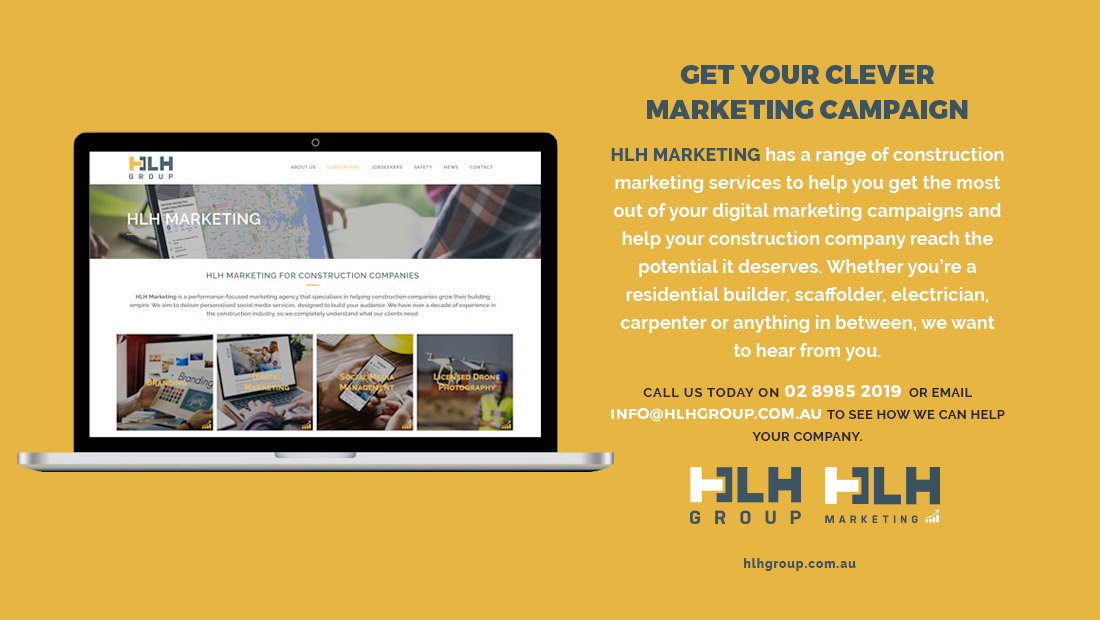 Clever Marketing Campaigns – That's a Wrap
Feeling confident that you can manage your marketing like these 5 big brands? Hopefully, you can take some inspiration from the above examples and enact them in your construction marketing campaigns. If you're not confident, HLH Marketing has a range of construction marketing services to help you get the most out of your digital marketing campaigns and help your construction company reach the potential it deserves. Whether you're a residential builder, scaffolder, electrician, carpenter or anything in between, we want to hear from you. Call us today on (02) 8985 2019 or email info@hlhgroup.com.au to see how we can help your company.