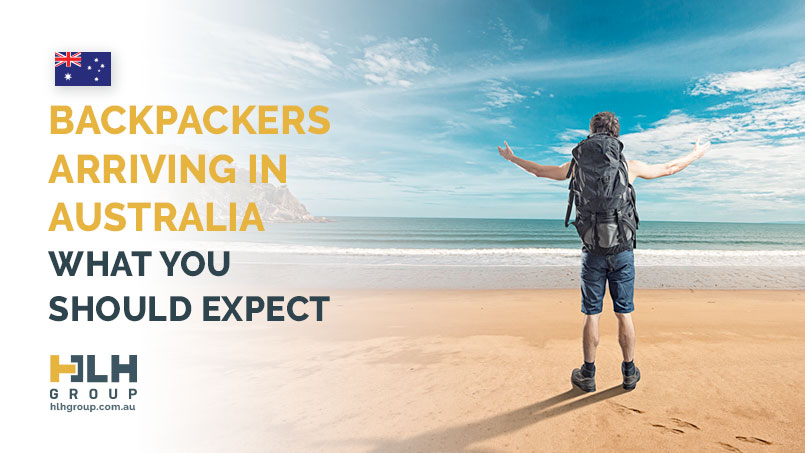 16 Mar

Backpackers Arriving in Australia – What You Should Expect
Backpackers Guide To Australia
With international travel opening back up across the board there is likely an abundance of like-minded people wanting to travel the world after being restricted for so long during the pandemic. Over the past couple of decades, Australia has been hugely popular amongst backpackers wanting to live a care-free life before starting a career or simply to have a break from their repetitive job to start a new adventure.
A Popular Backpacker Travel Route
An increasingly popular travel route begins in South-East Asia and finishes up in Australia. Backpackers can enjoy the beautiful Islands of Thailand & Cambodia or take a breath-taking motorbike tour around the mountains in Vietnam at very little cost. Beers are sold for under $2 in most bars and mopeds can be rented for weeks at no more than a 3-course meal in London. The abundance of hostels provide lots of affordable accommodation for travellers who can meet up, socialise and share their experiences/ recommendations amongst each other. After weeks (or months) of enjoying the cultural differences and scenic views, a large proportion of backpackers decide to move to Australia in search of a job and place to temporarily settle whilst continuing their adventures.
Sydney – High Living Costs & High Wages
Upon arriving in Australia, you'll be impressed by the beautiful coastline and endless landmarks to explore. Australia is a 'must do' for travellers across the world and we can guarantee you won't be disappointed. You will, however, notice a big difference in the cost of living compared to those in South-East Asia. A pint of beer will now cost a whopping $13 instead of $2 and the local hostels will noticeably burn a larger hole in your wallet! It is worth noting that whilst living costs are high, the wages in Sydney do reflect this. General labourers can find themselves earning $30 an hour once they have completed the 1-day white card course. Additionally, construction workers will also receive generous travel allowances, meal allowances and penalty rates for extra hours. Many backpackers struggle to secure office jobs due to lots of industries rejecting working holiday visas which consequently opens their horizons for other opportunities. Labouring roles may not typically enthuse some people from the UK or Ireland due to the bleak winters and endless rainy days however it is a different story over here in Australia. Many jobs are found on beautiful residential developments with picturesque views of the ocean. The short-lasting winter here averages 17-18 degrees so you don't need to worry about purchasing gloves and scarves any time soon!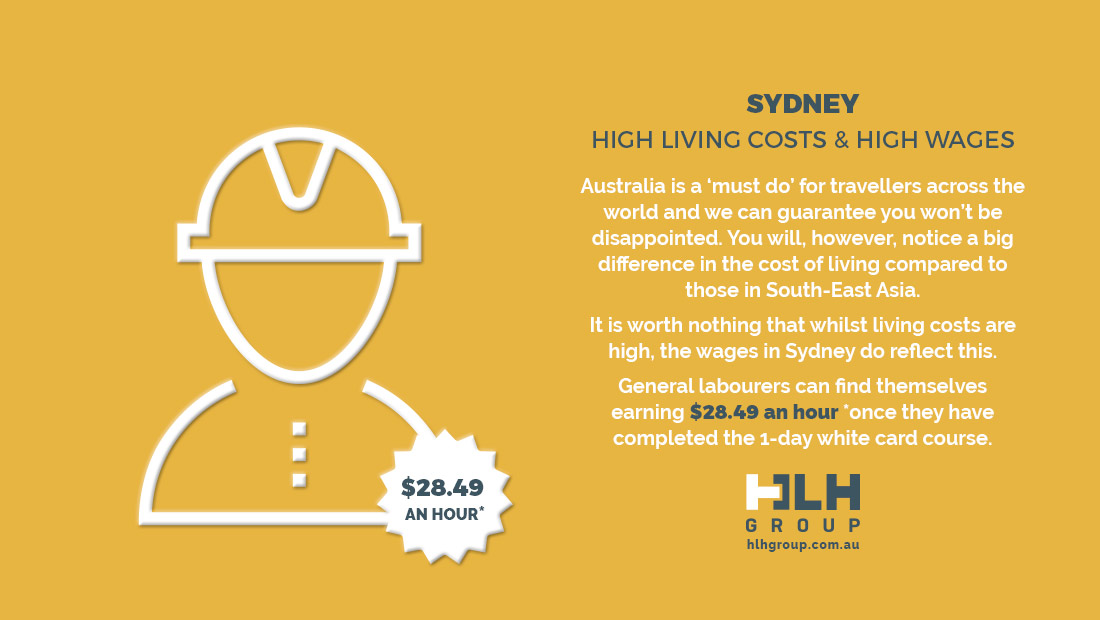 Fancy Labouring on an Iconic Site?
Here at HLH Group, we have placed workers on some of Sydney's most iconic sites which include the Sydney Opera House, Cronulla's Shark Park Stadium  & multi-million beachside renovations – a great experience for foreigners to tell the family about back home. On top of learning new skills and working alongside like-minded backpackers, working with us allows you to save up for the next part of your adventure. We make it super easy for new workers to get started and work. After you submit your working hours via our online portal, we make sure that you're paid every Thursday around midday. Once registered with HLH Group, we will assign you with a dedicated 24/7 account manager with who you can contact your availability and site preferences. If Personal Protective Equipment (PPE) is needed we can supply that as well.
Work in Sydney Australia
The choice is yours! Come see Australia with all its beauty and work for a labour-hire agency that cares. Once you've worked with HLH Group you will be able to fuel your next Australian destination. Why not book a week up in the Northern Territory to see Uluru?, try snorkeling at the Whitsundays or go kayaking with dolphins in Byron Bay?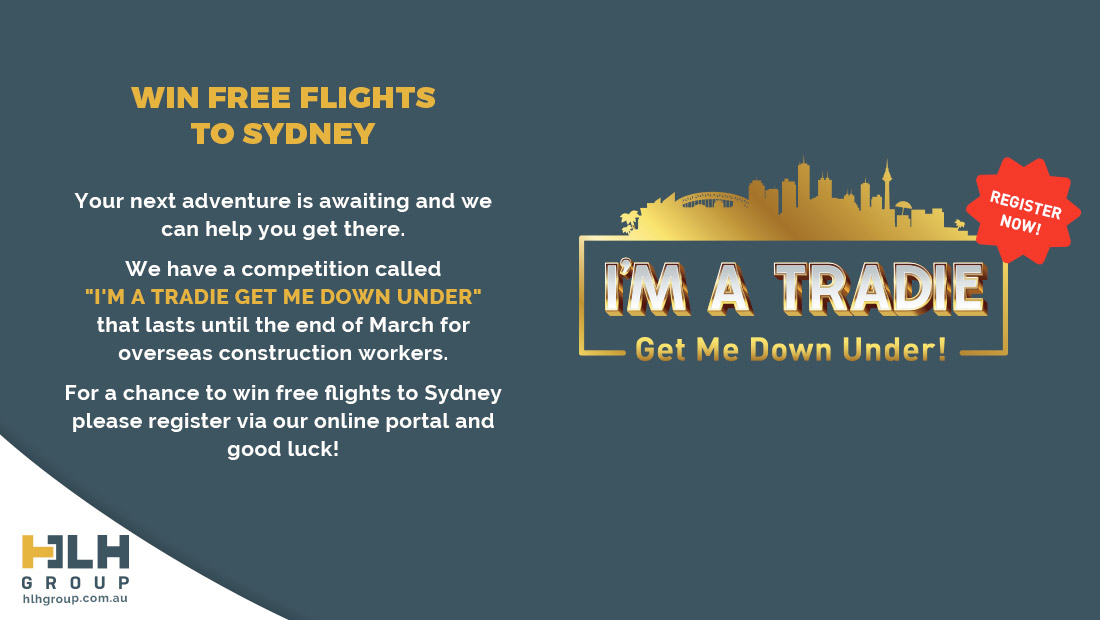 Win Free Flights to Sydney
Your next adventure is awaiting and we can help you get there. We have a competition called "I'm a Tradie, Get Me Down Under" that lasts until the end of March for overseas construction workers. For a chance to win free flights to Sydney please register via our online portal and good luck!