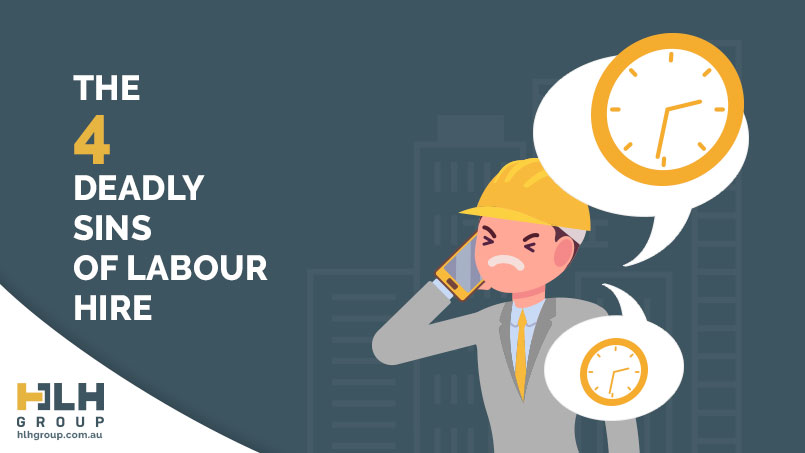 30 Mar

The 4 Deadly Sins of Labour Hire
Labour Hire Sins
As one of the leading providers of labour hire in Syndey we've come across some good eggs and some not so good eggs. In this post we'll go over what are the 4 Deadly Sins of Labour Hire – the 4 hallmarks of labourers & clients we avoid!
Number #1 – Not Turning Up for Work
Picture this and put yourself in the world of a labour hire recruiter. We have interviewed a candidate and uploaded all their details onto the system, then proceed to text them a job address. We then wake up at 6:00 am to a text from that candidate says: "I've just contracted food poisoning and won't be able to make it to work today. Sorry mate." This is then followed by a frantic scramble and message to all the other recruiters to find a replacement. Luckily at HLH Group, we have an extensive standby system to cover any issues that might arise in the morning. 9 times out of 10, we have a replacement worker that can fill the late letdown. The biggest sin that the same candidate can do is send us a text at 5:00 pm saying "Hi mate feeling much better any work for tomorrow?" This must be the worst excuse and we get it far too often to the point that we no longer believe it. When you're with HLH Group not showing up on DAY ONE is the first deadly sin and that candidate will no longer be placed on client sites. The moral of the story is….GO TO WORK!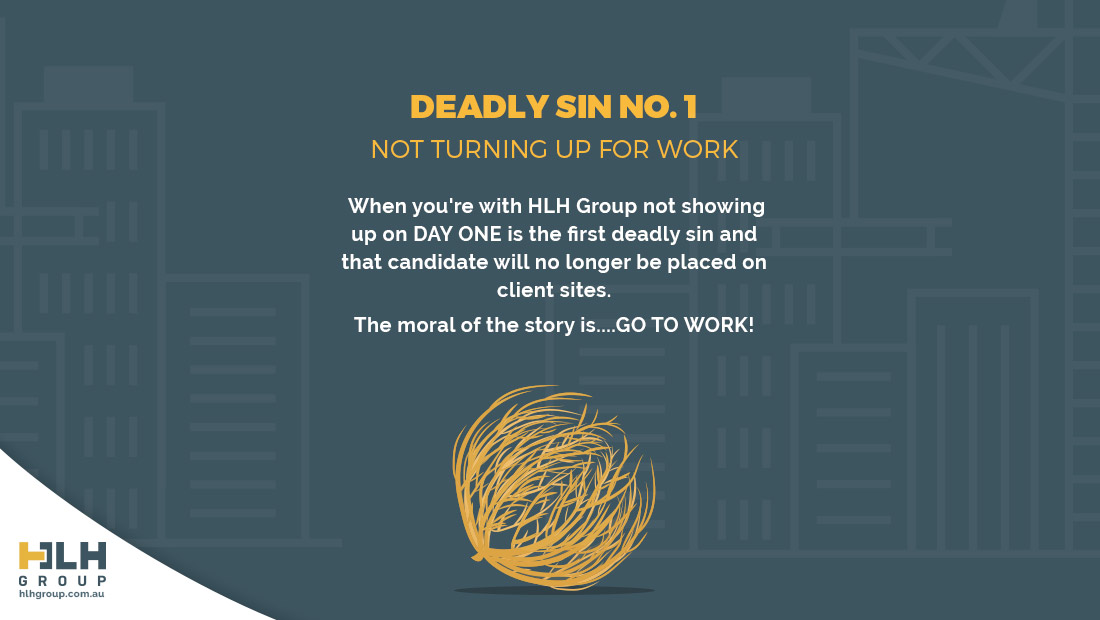 Number #2 – Missing Site Inductions
The worker has passed the food poisoning test and is on his way to work, so you relax and grab a coffee on the walk into the office and sit down at your desk to reply to a few emails. A short while after at 7:05 am we receive a call from the client where the worker is placed and found out he has not turned up to the site on time and missed the site induction. Immediately hanging up and calling the candidate only to be told they are waiting outside the worksite and have not heard back from the client. At 7:10 am the same client calls back and lets us know the worker has missed the induction and cannot work on site that day. For clients, make sure your phone is active and ready for workers to contact you once they arrive on the construction site. As for the candidate, whatever you do, DON'T miss the site induction. And that is the second deadly sin of the labour hire world – missing site inductions.
Number #3 – Timesheets
Timesheets, this has long plagued HLH Group from the paper days to our online payroll system. Back in the day we heard all the excuses –  "I've lost my timesheet",  "I forgot to get my timesheet signed by the supervisor" and "I put in the incorrect hours". We have since moved to an online payroll system which has alleviated the issues we once had. However, we still have issues with workers not submitting their timesheets on time. This is our third deadly sin. If you're a worker and forget to submit your timesheet you will delay our payroll process causing all workers to be paid late on a Thursday. In the rare case, failure to submit your timesheet will mean you get paid the following week. We would like to thank all of our HLH workers that consistently enter their timesheets on time and correctly.
Number #4 – Late Requests from Clients
This deadly sin is directly pointed at the unorganised construction companies of the world. Imagine this scenario for our recruitment team – you're sitting at home at 8pm and your phone text chime rings, you read "Hi mate, I need 4 labourers tomorrow in Mona Vale". Now back two years ago this wouldn't have been a problem and we would've supplied those labourers. However, the landscape has changed since COVID-19 hit the world and now finding experienced reliable labourers is quite challenging. Construction is just one of the many industries that have been affected as a result of the ongoing labour shortages in Sydney. We are still able to fill most labour requests but we just need a bit more notice until things return to how they were pre-pandemic.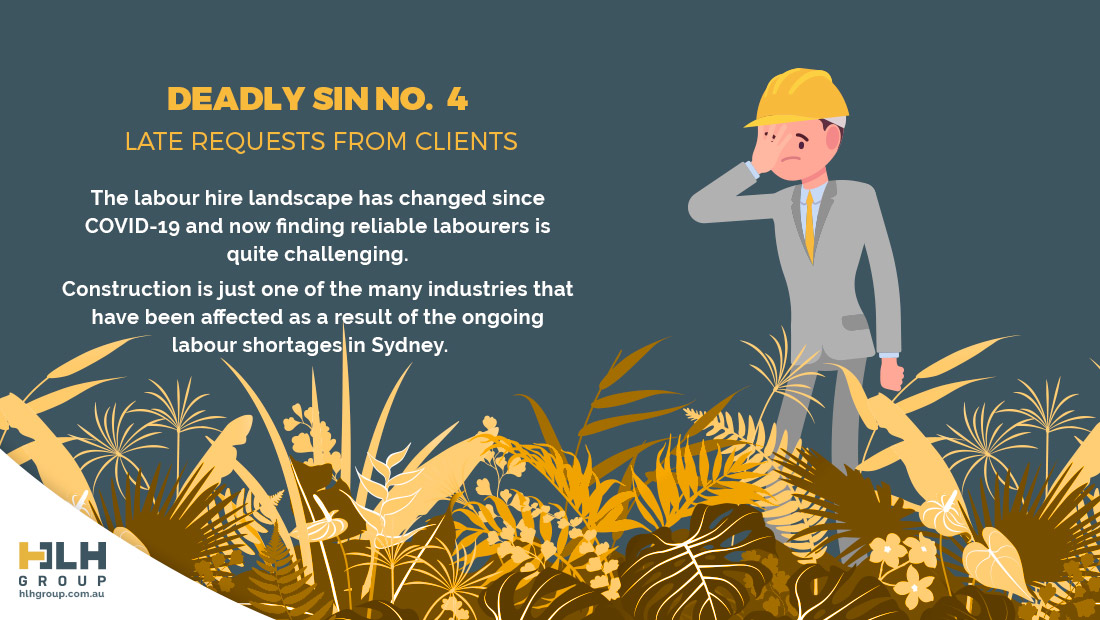 2022 – A Turning Point for the Labour Market
Considering all of the above, we truly think the HLH account managers do a wonderful job of managing both clients' and candidates' expectations. We have created a great internal team who have managed the pandemic wonderfully given the limited resources at our disposal. Everyone here at HLH Group hopes 2022 will prove to be a turning point for the labour market with the return of backpackers. If you'd like to join the HLH Team or need some labour hire then contact us.