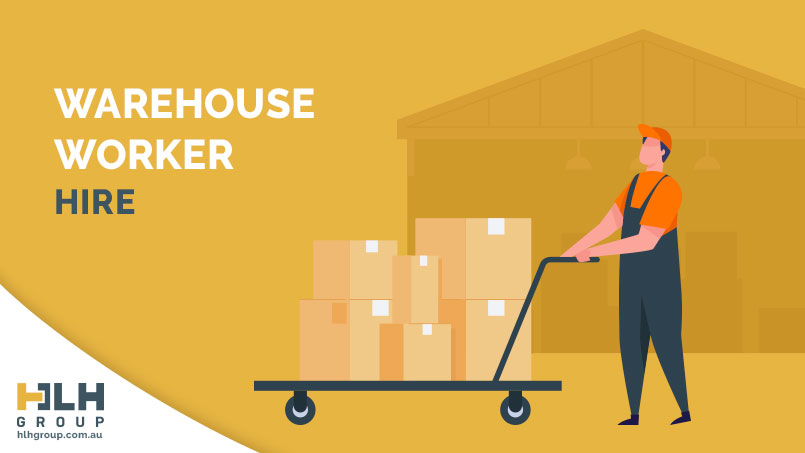 08 Sep

Warehouse Worker Hire
Warehouse Worker Labour Hire
Since 2015 HLH Group has supplied labour hire to a range of different industries in NSW. Construction is the busiest industry we supply due to the current labour hire shortages. Landscaping is at full throttle as the weather is heading into Spring, we currently have several roles we are looking to fill, so reach out if you are a landscaper. One of our growing industries, manufacturing services, has seen a steady increase in the last few months and is definitely an avenue we would like to explore further. In this blog, we are going to take a closer look at warehouse work and the minimum requirements you need to possess to work in this lucrative industry.
What is the Role of a Warehouse Worker?
A warehouse worker's responsibilities include picking and packing items for dispatch, processing inbound and outbound shipments (e.g. sorting, loading and unloading goods), preparing and verifying shipping documents and ensuring products are stored in the correct location and a good condition.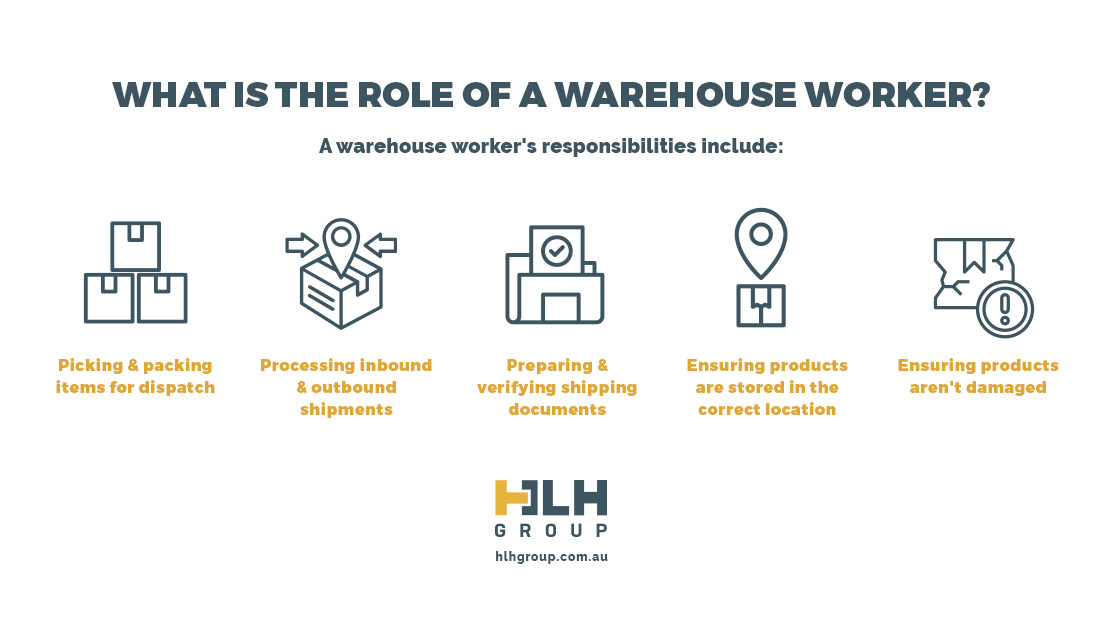 Minimum Requirements for Warehouse Work
Warehousing work has simple entry requirements as it is not different from working on a construction site. At a minimum, you will need to have steel-toe capped boots, high-vis, safety glasses and gloves. However, it may be warehouse specific and any extra PPE will be provided by your warehouse company client. You do not need a white card to work in a warehouse which is one of the benefits of working in one as opposed to construction. So, if you're a hard worker and new to the industry it might just be the job for you. One thing to consider about warehouse work is that it is physically demanding and you will be on your feet for most of the day.
Warehouse Work: The Day-to-Day Duties
The general duties of a warehouse worker include:
Pick, pack and dispatch products following procedures
General warehouse duties
Ensure the warehouse is kept in a constant state of cleanliness
Must be reliable, punctual, trustworthy and dependable
Have excellent listening and verbal communication skills
Have high attention to detail, be fast and accurate
Be able to work effectively both within a team and individually
Examples of Warehouse Jobs
We have supplied to several warehouse clients and are more than experienced to supply labour to this sector. One of the companies we supply makes plastic sheeting for the mining industry, so you would be required to help fold the sheets, clean them, and package them for distribution. Other companies we have supplied in the past have been food companies that require workers to pick and pack meals to be delivered to customers' homes. At the start of the shift workers are provided with a list of what needs to be packed and they would have to go around the warehouse finding the items and packing them into the boxes. We also have a company that makes prefabricated homes, and you are required to help manufacture these in the warehouse. Work would involve measuring the wood, cutting the wood, and helping to move the prefabricated homes for them to be delivered to the site.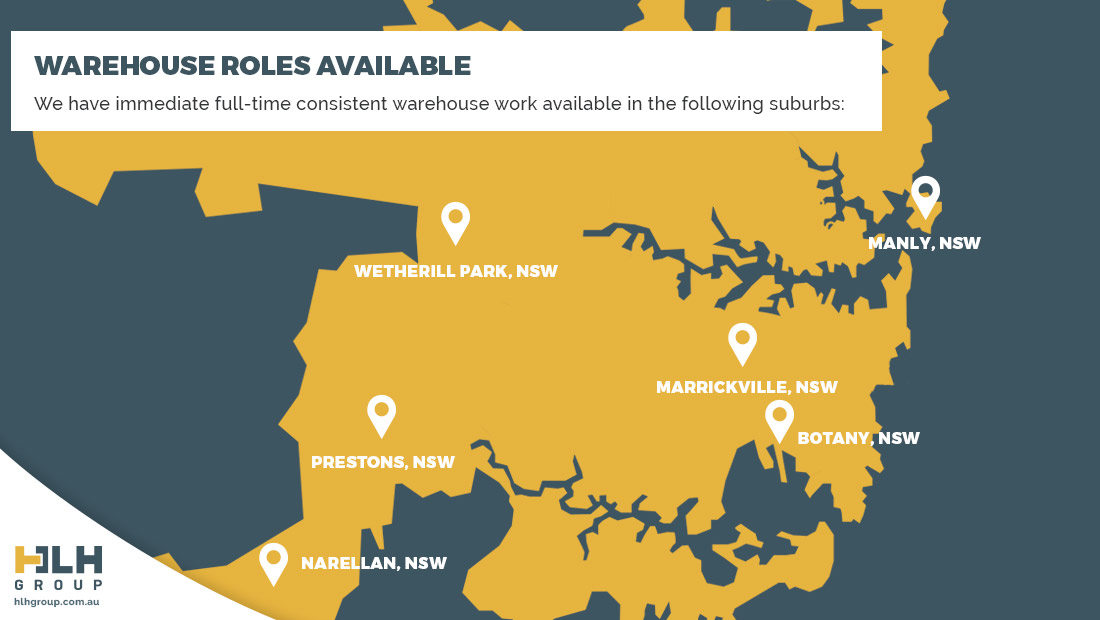 Warehouse Roles Available
We have immediate full-time consistent warehouse work available in the following suburbs:
Prestons, NSW
Manly, NSW
Wetherill Park, NSW
Botany, NSW
Narellan, NSW
Marrickville, NSW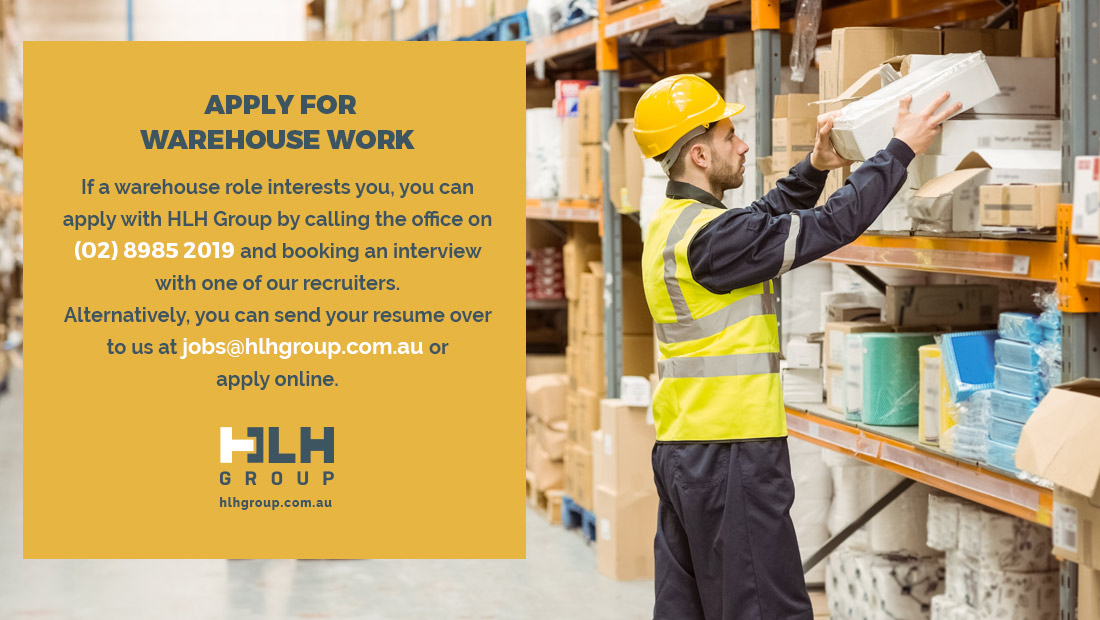 Apply for Warehouse Work
If any of these warehouse roles interest you, you can apply with HLH Group by calling the office on 02 8985 2019 and booking an interview with one of our recruiters. Alternatively, to apply for a warehouse role, you can also send your resume over to us at jobs@hlhgroup.com.au or apply online. We also have other construction roles available so make sure to check them out.