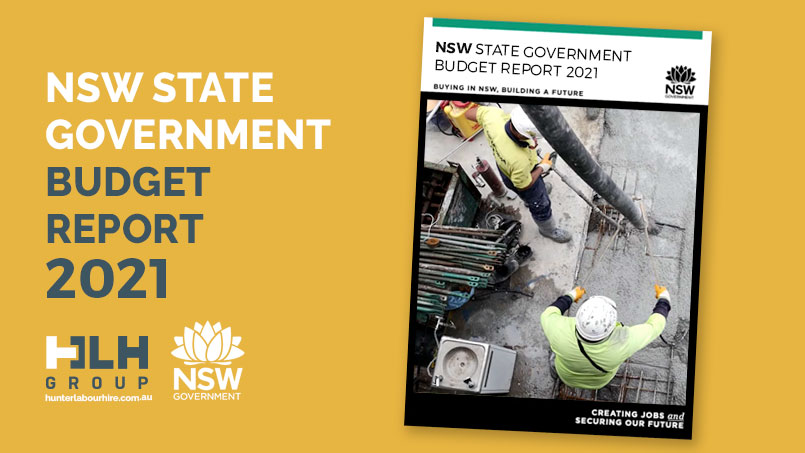 30 Jun

NSW State Government Budget Report 2021
NSW State Government Budget 2021 Review
In this week's blog, we are going to take a closer look at the NSW state government budget for 2021. The NSW Government has announced a record $108.5 Billion in spending over the next 4 years. We will take a closer look into what projects we can expect over the next 4 years.
Sydney Transport Revolution ($18.7 billion 2021-22)
Sydney has been undertaking huge projects from the rail, road to airports with the recently constructed North Connex and West Connex. The biggest upgrades will come to the Sydney Metro West with ($12 Billion over the next 4 years) connecting Western Sydney to the CBD. NSW roads will see a massive spending spree start with the M6 in Botany which is already underway, other notable upgrades will be the Northern Road upgrade coming in at ($1.3 Billion over the next 4 years). Regional NSW will also be getting 22 additional bypasses, Coffs Harbour Pacific Highway upgrade ($1.2 Billion over the next 4 years) and Muswellbrook bypass, New England Highway upgrade ($168.7 million)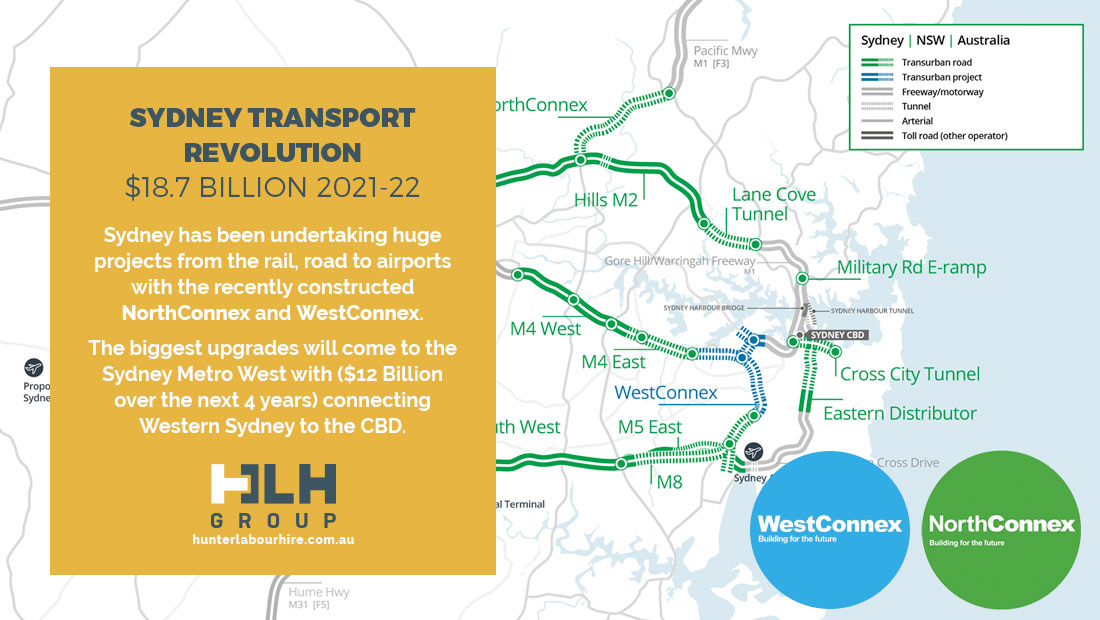 Investing in our Health ($3.1 billion 2021-22)
NSW will be spending $3.1 billion which will be invested in 2021-22 to continue and commence around 110 health capital projects across 18 metropolitan hospitals, 28 regional hospitals and other health facilities. Sydney will be getting a huge upgrade to the Liverpool Health and Academic Precinct ($740 million). Outside of Sydney, there are several projects from including:
John Hunter Health and Innovation Precinct ($835.0 million) in Newcastle.
Northern NSW will be undertaking the redevelopment of the Tweed Hospital and Integrated Ambulatory Services ($673.3 million).
Regional NSW will be undertaking Hospital upgrades in the following Moree Hospital ($80.0 million)
Gunnedah Hospital ($53.0 million)
Muswellbrook Hospital Stage 3 ($45.0 million)
Wentworth Hospital ($30.0 million)
Goulburn Hospital redevelopment ($165 million).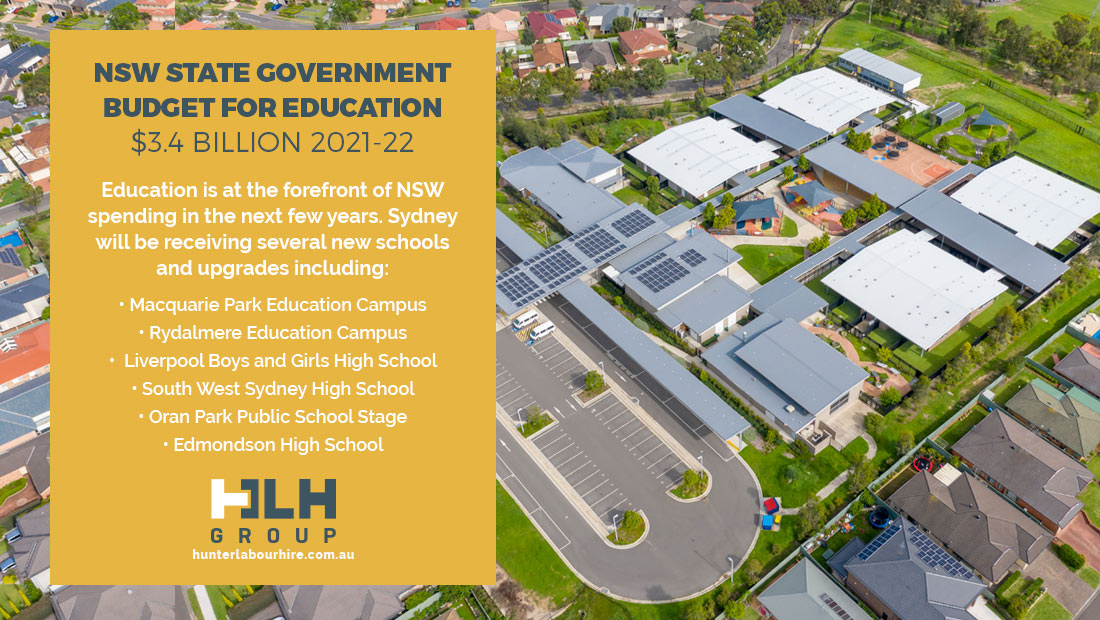 NSW State Government Budget for Education ($3.4 billion 2021-22)
Education is at the forefront of NSW spending in the next few years. Sydney will be receiving several new schools and upgrades including:
Macquarie Park Education Campus
Rydalmere Education Campus
Liverpool Boys and Girls High School South West Sydney High School
Oran Park Public School Stage 2
Edmondson High School
NSW State Government Budget for Community and Urban Development
NSW is committed to providing a Social & Affordable Housing program with ($852.5 million) to be invested over the coming years.
Apprenticeships and Training Programs
There are to be record amounts spent on apprenticeships and training programs over the next few years. The following projects will help provide more apprenticeship and training pathways:
Creation of the Institute of Applied Technology for Construction at the Nepean TAFE campus located in Kingswood (Sydney) ($79.6 million).
Construction of Connected Learning Centres in Batemans Bay, Cobar, Jindabyne, Hay, Tomaree, Nambucca Heads and Byron Bay ($11.4 million)
Development of TAFE Trades Training Facilities at Broken Hill, Kingscliff, Moruya and Western Sydney ($5.9 million)
Through the Skilling for Recovery Job Trainer program, the NSW Government will significantly increase the apprenticeship intake across Transport for NSW by continuing to offer free training to certain Apprentices ($318.6 million).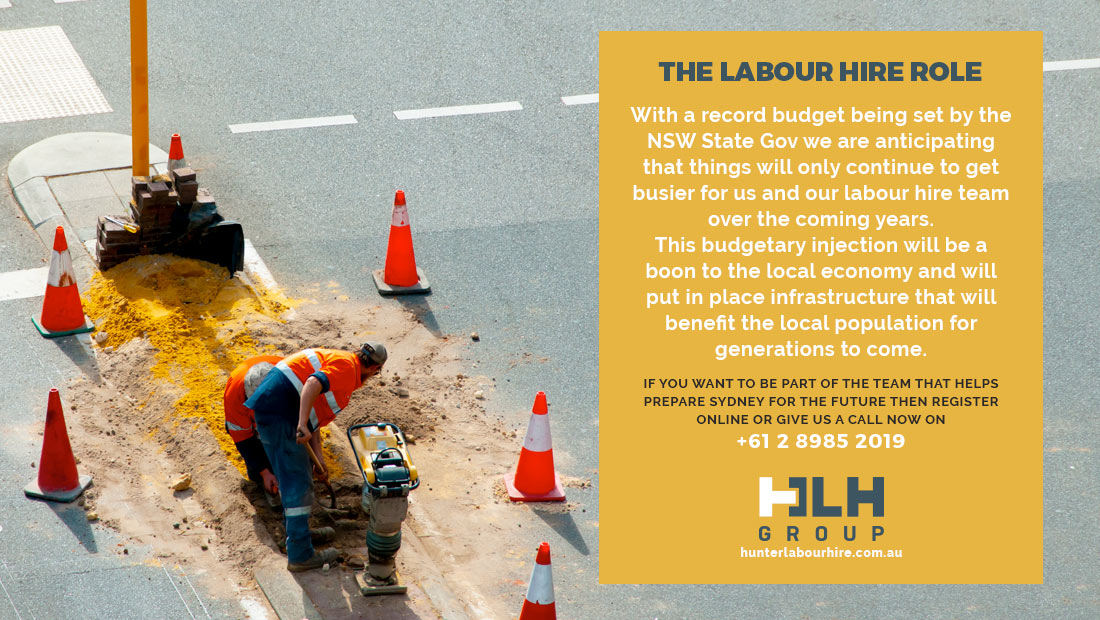 The Labour Hire Role
With the record budget being set by the NSW State Gov we are anticipating that things will only continue to get busier for us and our labour hire team over the coming years. This budgetary injection will be a boom to the local economy and will put in place infrastructure that will benefit the local population for generations to come. If you want to be part of the team that helps prepare Sydney for the future then register online, check out our current labour hire job openings or give us a call now on +61 2 8985 2019.