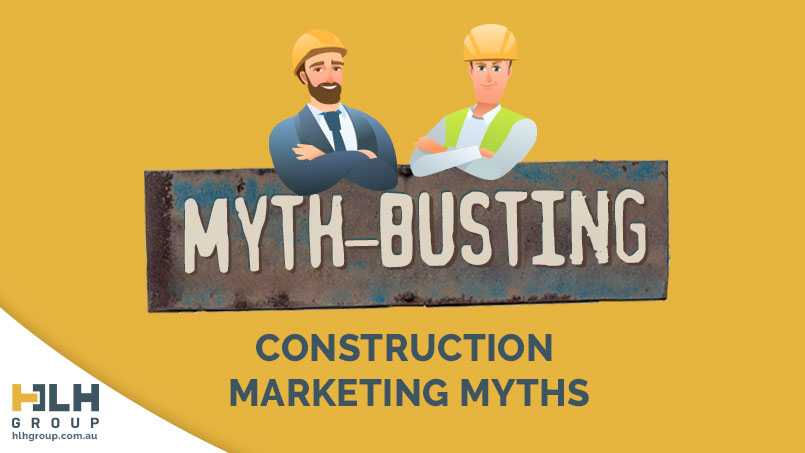 09 Mar

Myth-busting Construction Marketing Myths
Construction Marketing Myth-busting
Today, we will be myth-busting some of the common myths we hear on a day to day basis within the construction marketing industry. Whether it be myths about social media to the best marketing strategies – we've heard them all. So sit tight and enjoy the HLH Marketing edition of Mythbusters – the famous show hosted by Adam Savage and Jamie Hyneman.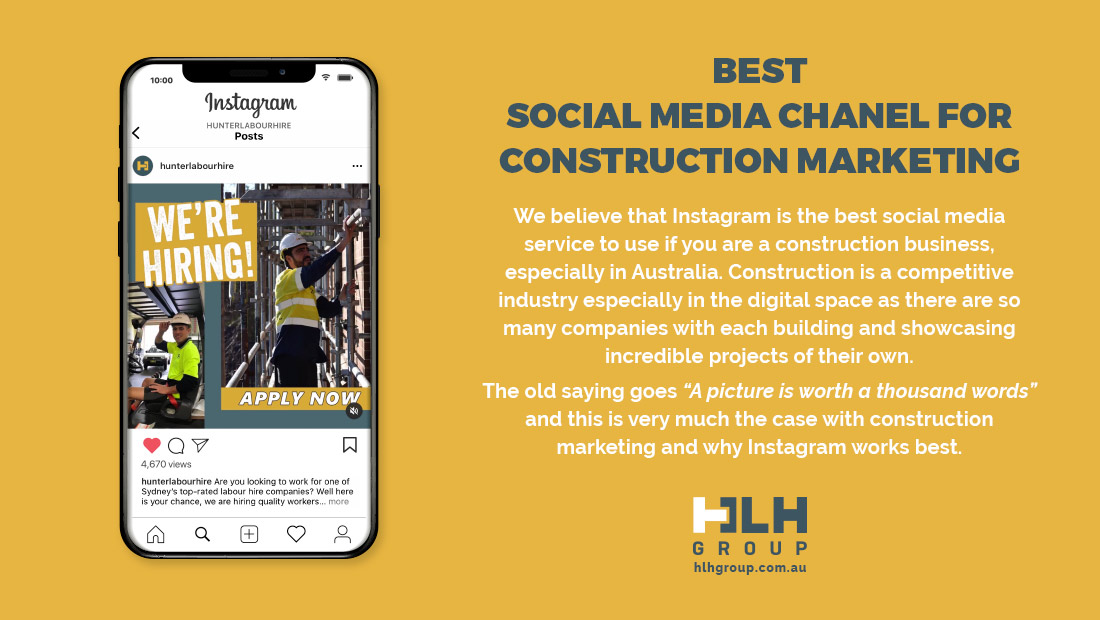 Myth #1: Instagram is the Most Used Social Media Platform
FALSE
This is false. Although Instagram is incredibly popular, Facebook is the most used social media platform. Facebook has around 2.9 BILLION active users on their platform. That's about half the world's population using Facebook every single month. It's no secret why either. Facebook owns a collection of apps within their system including WhatsApp, Messenger, Instagram and the next big thing…the Metaverse. Although it is the most used social media platform in the world, we DO NOT think that it is the best social media platform for construction companies.
Here at HLH Marketing, we believe that Instagram is the best social media service to use if you are a construction business, especially in Australia. Construction is a competitive industry especially in the digital space as there are so many companies with each building and showcasing incredible projects of their own. The old saying goes "A picture is worth a thousand words" and this is very much the case with construction marketing.
If a construction company posted a status on Facebook saying "We just built this luxury 4 storey mansion in the heart of Sydney for our incredible clients" with no image attached then would you believe them? The most common answer would be 'No'. However, if they included an image of the Sydney mansion they built you would probably believe them and be more impressed with the photo as opposed to just text. That's the key part of Instagram. You can only post if you upload an image, video or story. Also, once someone clicks on your profile they can see all the projects you've ever completed further gaining their trust. Not to mention that Instagram is slowly but surely creeping up on Facebook for active users. Customers need to see your incredible projects to believe it and Instagram might just be your best solution.
So, if you're not uploading and posting your best construction projects to social media, especially Instagram you are missing out on a big marketing opportunity.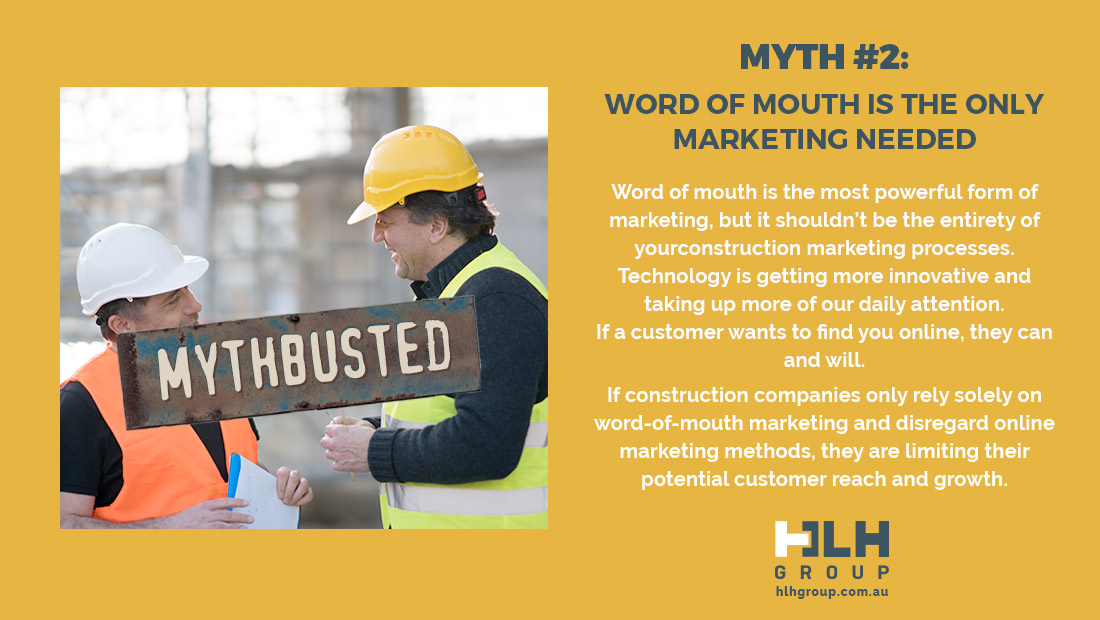 Myth #2: Word of Mouth is the Only Marketing Needed
FALSE
If we had a dollar for every time we heard a construction company tell us they don't need marketing as "word of mouth has been working for me" we'd be rich enough to retire and buy a mansion in the South of France. Don't get us wrong, word of mouth is the most powerful form of marketing, but it shouldn't be the entirety of your construction marketing processes. Let's face it, technology is getting more innovative and taking up more of our daily attention. If a customer wants to find you online, they can and will. If construction companies only rely solely on word-of-mouth marketing and disregard online marketing methods, they are limiting their potential customer reach and growth. Additionally, some construction company owners don't even realise they are using more than JUST word of mouth. If your building company uses business cards and signage then that's branding. If your building company sends out a monthly newsletter to all clients then that's Email Marketing. The fact of the matter is word of mouth as a sole marketing tool is not sustainable, especially with the number of construction companies saturating the market. You may be busy with back-to-back projects but there may come a day when referrals dry up and there is nothing new coming in. At a minimum, every construction company should have the following marketing tools; website, business cards, social media, mailing list and branded uniforms.
If word of mouth marketing is your sole marketing campaign at the moment and you're looking to expand your construction business online, then get in touch with HLH Marketing to discuss your options.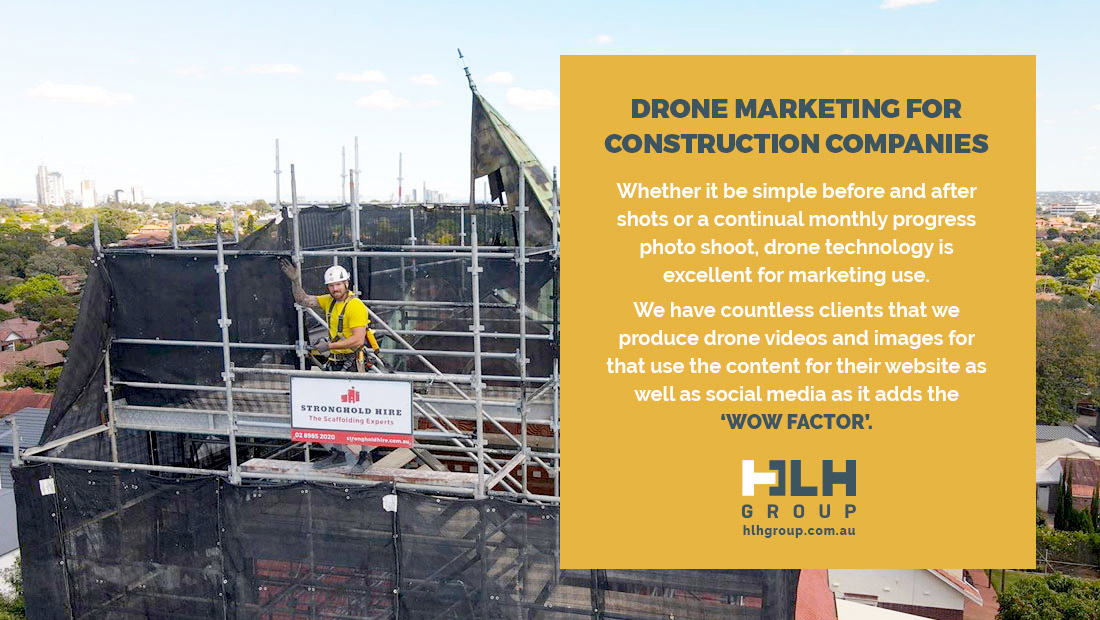 #3 Drone Technology is Not Used in the Construction Industry
FALSE
Drones. They are everywhere. Over the most recent years, drones have become one of the fastest-growing construction trends. The industry has experienced a 239% growth in drone use year over year, higher than any other commercial sector. Their aerial vantage point and data collecting abilities make them a multipurpose tool, offering benefits ranging from on-site safety to remote monitoring. The incredible aspect of a drone camera photography is that these images were only available previously via a helicopter or plane or an extremely tall platform.
Whether it be simple before and after shots or a continual monthly progress photo shoot, drone technology is excellent for marketing use. We have countless clients that we produce drone videos and images for that use the content for their website as well as social media. It adds the 'WOW factor'. Don't get us wrong, on-floor still images are needed to capture the inner beauty but drone images can highlight the surrounding area as well as the exterior architectural beauty of your project. If you have a project that you want to capture via our drone photography service, be sure to contact us and organise a date/time for your drone photoshoot.
It is important to remember that flying a drone is not for the average person and is not recommended for beginners. There are risks with flying a drone that the average builder wouldn't know about. These include fly zone restrictions, maximum height, distance from pedestrians and more. Failing to comply with Civil Aviation Safety Authority (CASA) and their drone laws may result in excessive fines and flying bans.
Construction Marketing Myths – Conclusion
So that's some of the well-known construction marketing myths BUSTED. Feel free to contact Michael from Marketing on (02) 8985 2019, email him at michael@hunterlabourhire.com.au or contact him online to discuss how he can help your construction business grow with a bit of marketing. HLH Marketing has services that cover most of the construction marketing essentials like social media management, drone photography, video production and branding.