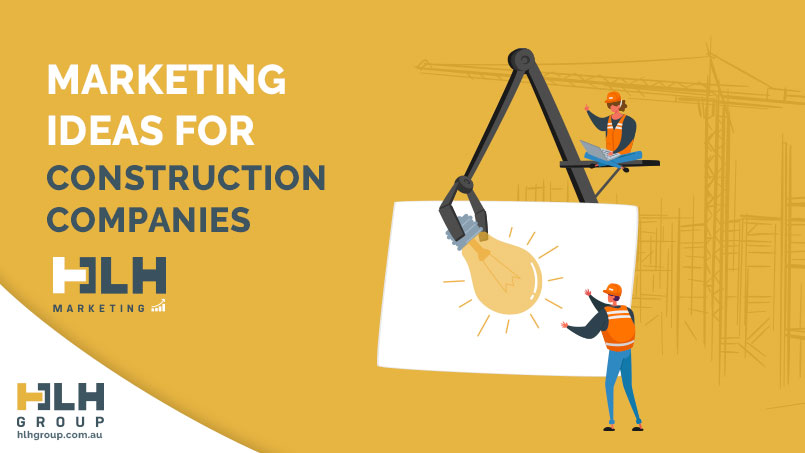 04 Aug

Marketing Ideas for Construction Companies
Top Construction Marketing Ideas
If you have landed on this page, you're either out of construction marketing ideas or you're just launching your business online and looking for the best ideas around. For whatever reason you stumbled across this page we are here to help provide you with some of the latest and trending digital marketing ideas for construction companies.
Why Construction Marketing is Important
The construction industry is extremely competitive due to the number of companies that operate within the same space. How many construction companies are there in Australia? 360,000! Given how congested our major cities are, there will always be another construction business nearby looking to service your next potential customer. That's why it is important to stand out from all aspects of your construction business, especially on a marketing front. So, here are some marketing ideas for your construction business.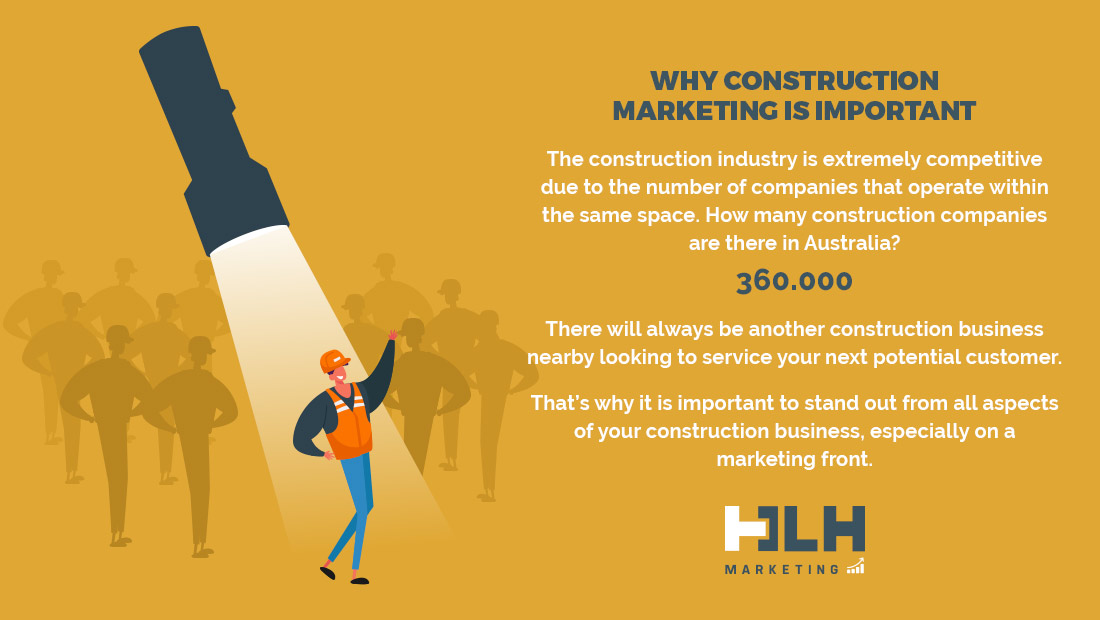 Marketing Idea No.1 – Run a Competition
Hosting a competition is a great way to help with marketing your construction business. There are two simple questions you need to answer when organizing a competition for your construction company.
The first is "What do I want to give away?" and this is completely up to you, you can be generous and offer a host of prizes like technology, gift cards and brand-new cars (alright settle down Oprah Winfrey). Big prizes are a great way to get the audience's attention and make them want to enter the competition. On the other hand, you can offer discounts for your business or one-off free services depending on how your construction pricing is set up. This is simple marketing; you give your winners a glimpse of how professional your company is and they will more than likely use you again.
The next question is "What do I want in return?". If you're giving away all these great prizes then what's in it for you? Well, we recommend asking for customer reviews and testimonials. These are one of the primary methods and items customers will look for when looking to use a construction service. For example, if you were looking for an electrician in Sydney would you be more likely to use the electrician with 3 five-star reviews or the one with 47 five-star reviews? Exactly, and so even though the competition may be simple with just $200 worth of prizes the investment will be returned in the long run.
Marketing Idea No.2 – Introduce Your Team via Social Media
We've said it before, and we will say it again. In construction marketing, creating a human element either on your website or social media pages can help individuals put a face to the name and feel a bigger sense of trust in the business. That's one of the main things your customers will need when they want to use your construction business…TRUST. After all, they are investing and trusting a large amount of money with your construction business. A simple post on Instagram, Facebook or Linkedin with a headshot of one of your staff members will go a long way. For example, "Introducing [Insert First Name], he has worked with us since [Insert Year] and has been a pivotal part of them ever since". A simple yet effective way to show off your team online. If social media is not your thing, we can help you by managing your social media platforms whilst you stick on site with the tools. Get in touch today to learn more about our social media management packages.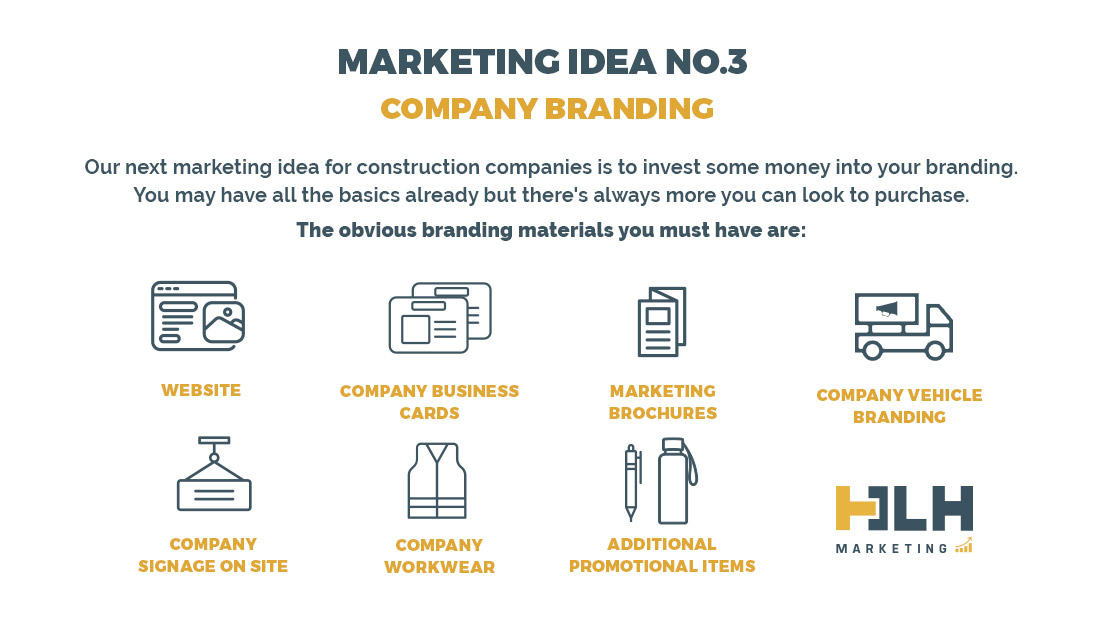 Marketing Idea No.3 – Company Branding
Our next marketing idea for construction companies is to invest some money into your construction company branding. You may have all the basics already but there's always more you can look to purchase. The obvious branding materials you must have are the website, company business cards, marketing brochures, company vehicle branding, company signage on site, company workwear and any additional promotional items. You would be surprised to find out that most construction businesses fail to own even at least one piece of company branding. It may save you money in the short term by not purchasing the merchandise and branded items but in the long term you are missing out on a large potential for customer awareness. The more customers are familiar with your company and its marketing, the more likely they will consider you and use you for future construction projects. Imagine you have a construction project on a public road with company signage and contact details. Think about how many people travel past your site on their daily commute. Now calculate how many clients you would get if even 1% of those individuals went on to enquire about your services in the future.
Marketing Idea No.4 – Send Out a Monthly Newsletter
Believe it or not email marketing still works in 2022, especially in construction. It is one of the many ways you can directly reach your target audience and clientele's eyeballs. We recommend you send out a monthly newsletter with a range of company updates including Project Progress, Staff News, Upcoming Builds, New Team Members, etc. It may not have any immediate returns as soon as you click SEND but in the long run, you will build brand awareness for your construction company. In terms of marketing for your construction company, this is a rare one that can cost you virtually nothing if you're capable of building an email mailing list and monthly template email. It's worth including some Call to Action buttons and hyperlinks that direct to your website to generate more website traffic from potential construction clients.
Marketing Idea No.5 – Create Showcase Videos for Your Projects & Brand
As the common saying goes, a picture is worth 1000 words. Now imagine the power a showcase video can do for your client. We cannot stress this enough; video is the future and is taking over the digital world as we know it. Think about the trending digital platforms that are launching into popularity; TikTok, Instagram Reels, YouTube and so on. Video must be a part of your construction marketing plans. At HLH Marketing, we can provide you with a range of showcase video packages to market your latest project, service or even your entire company. Our most popular service is our drone photography packages to showcase your area from an aerial angle and capture the entire production. Get in touch today to see how we can build a customized video for you!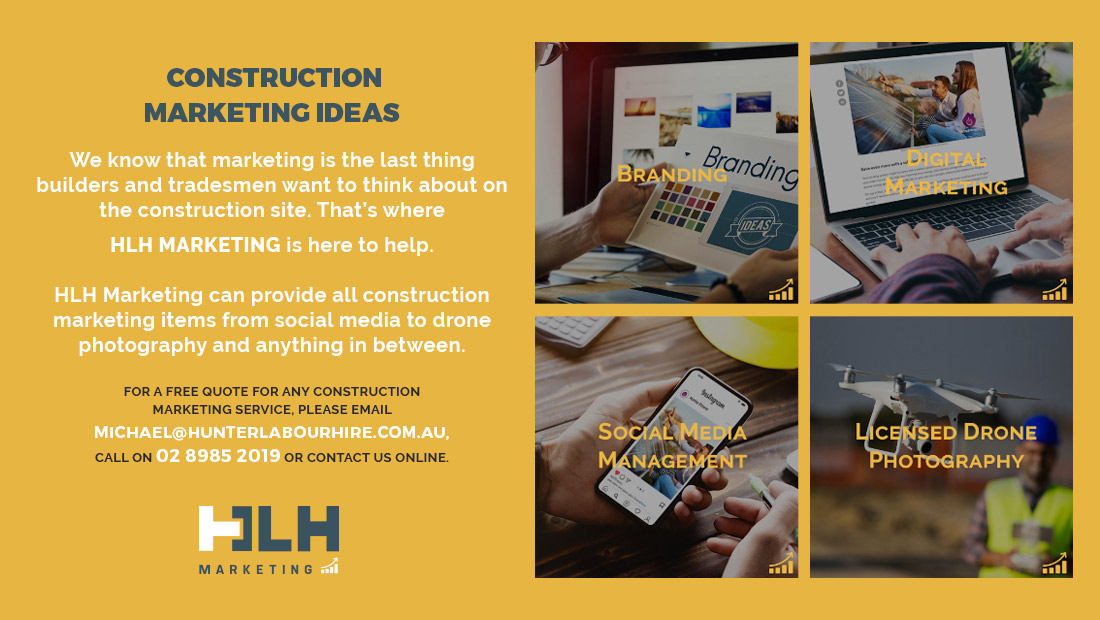 Construction Marketing Ideas
We know that marketing is the last thing builders and tradesmen want to think about on the construction site. That's where HLH Marketing is here to help. We have several construction marketing services to help you promote your business online. HLH Marketing can provide all construction marketing items from social media to drone photography and anything in between. For a free quote for any construction marketing service, please email michael@hunterlabourhire.com.au or call on (02) 8985 2019.