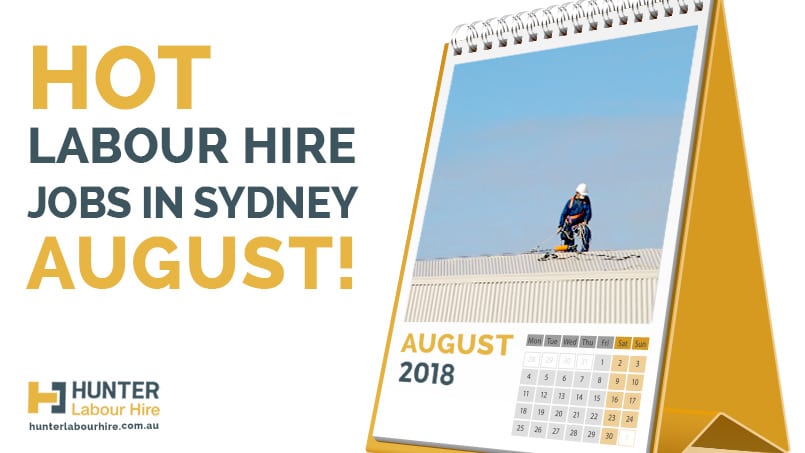 15 Aug

Hot Labour Hire Jobs August
Winning Large Contracts With Construction Companies
We're now well into the second half of the year and the Hunter Labour Hire business development team are continually winning large contracts with construction companies throughout the Sydney metro region. Due to this we require reliable people who are not afraid of hard work with experience in the construction industry to join our team.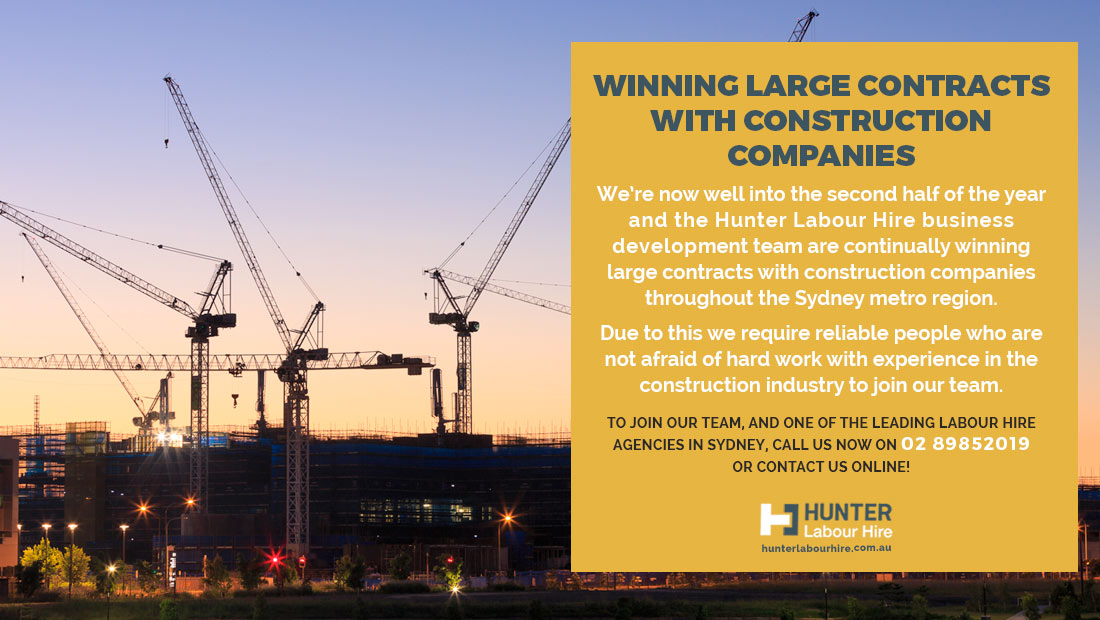 Labour Hire Jobs Available in August
Avid readers of this site will see we regularly have "hot labour hire jobs" available and August is no different. Given some of the new contracts we have won we have more positions available than ever before for a variety of different labour hire positions. Check out some of the positions we have available now below!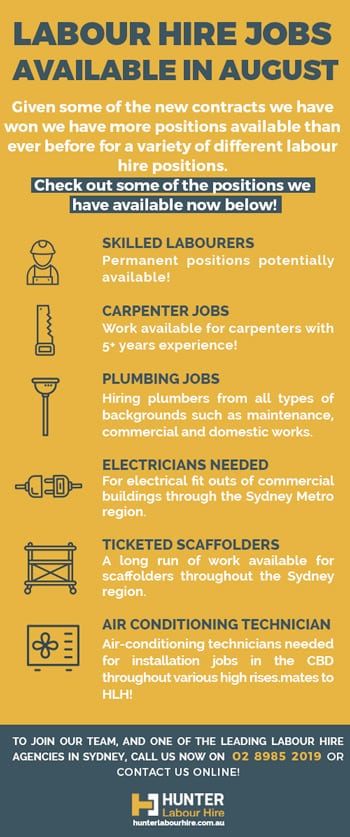 Skilled Labourer Positions
We require skilled labourers with experience operating power tools and working alongside trades such as electricians and carpenters. These positions are casual full time and have lead to permanent job offers for candidates who have really impressed in the past. If you have skilled labouring experience, then we want to hear from you today as we have work with some of Sydney's top construction companies.
Carpenters Jobs
We require carpenters for jobs in the Northern beaches and Inner West. Suitable candidates will have a minimum of 5 years' experience, carpentry qualifications and have their own transport and tools. We offer work to suit carpenters who work in various different aspects of carpentry from framing to 1st fix to 2nd fix.
Plumbing Jobs Available
This month we are hiring plumbers from all types of backgrounds such as maintenance, commercial and domestic works. We have domestic plumbing jobs in Marrickville that require candidates experienced in fit off work. While we also require plumbers for a commercial project in North Sydney.
Electrician Jobs
 
We also require electricians for electrical fit outs of commercial buildings through the Sydney Metro region. We require qualified electricians (qualifications from overseas are acceptable). These projects range in length from 3 weeks to 18 months. Must have basic hand tools and ideally own transport however this is not required.
Ticketed Scaffolders Needed
We have a long run of work for scaffolders throughout the Sydney region. Most of our scaffolding work is in the Eastern Suburbs and Sydney CBD, Northern Beaches and the Inner West. We require a minimum of the Basic Scaffolding ticket for scaffolders but will also consider scaffold labourers with experience assisting scaffolders.
Air Conditioning Technicians
We require air-conditioning technicians for installation jobs in the CBD throughout various high rises. You will be required to have an AC qualification and be able to install AC units without direct guidance. Own tools will be required.
Labour Hire Jobs Available – Apply Now!
If you are interested in working with Sydney's top rated labour hire company on Google then send your resume and cover letter to jobs@hunterlabourhire.com.au, call the office on 02 89852019 or apply online! We constantly have new jobs becoming available so don't forget to check our website for our latest positions. We look forward to hearing from you soon!