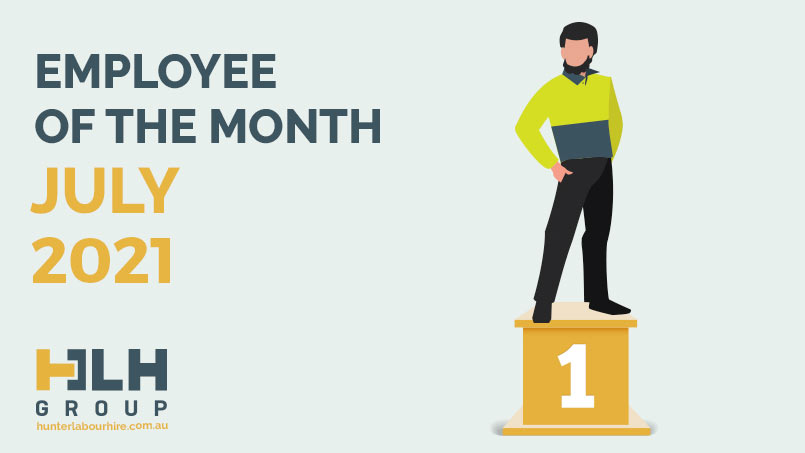 11 Aug

Employee Of The Month July 2021
Employer of the Month July 21
For our first HLH Employee of the Month in the new financial year, Raffael Tembeleski takes the July award. Raf started with us back in January and has proven to be versatile, hard-working, and committed to the team. He thoroughly deserves this award as he is just about to return to university which is a great loss to the HLH Group team. He is studying for a degree in 'Building Design' at university and Raf always does whatever he can for the HLH Group team. He has upskilled himself to gain additional tickets such as forklift, working at height and confined space which is valuable for us when we have specific requests come in. Most recently Raf has been with a metal roofing client of ours and the feedback has been excellent as always. In addition to this was on a very detailed decommissioning job for an environmental client. There have been several clients that request Raf back on numerous occasions, proving his value to the company.
Words from Raffael Tembeleski
"The team at HLH Group are a very capable bunch ensuring that there is an ample amount of work throughout the week. They even work tireless after work hours to ensure that we have a secure job for the next day. Dealing with all the team members has been a pleasure, and they are honesty very polite and quick to accommodate your any needs. I would highly recommend for anyone looking at getting some highly valued experience in the construction industry or simply looking for part time or casual work to suit your specific needs."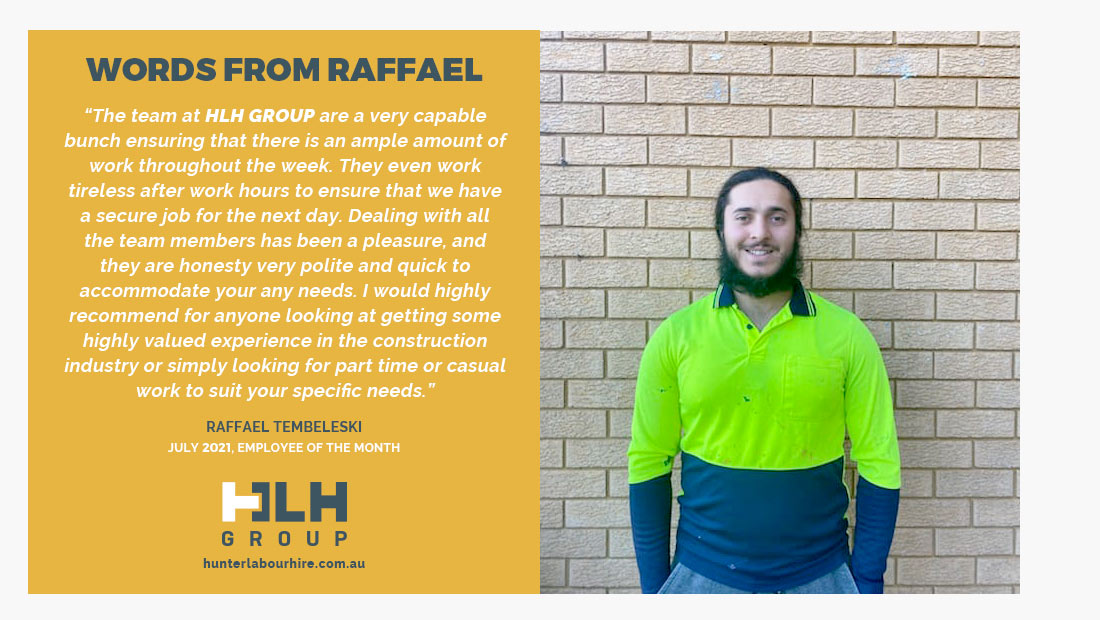 Account Manager Statement
Raf's account manager Damien cannot speak highly enough of him.
"Raf hit the ground running from the start, and I have several clients that specifically request him back … if only we could clone him! As he is still in university, it is unfortunate we do not have him full time, but we make sure to utilise him as best as we can when we can! Raf will do brilliantly in his career no doubt. Thanks for everything".
Client Statements
"Raf is really good, he listens and picks things up quickly. He's punctual and very hard working – exactly what you want in a good labourer!"
– Theo, HLH Group Metal Roofing client.
"Raf is brilliant, he is perfect for the work we do as he can work independently and is skilled enough to get detailed tasks done quickly and correctly. We would welcome him back with us any time."
– Matilda, HLH Group Environmental client.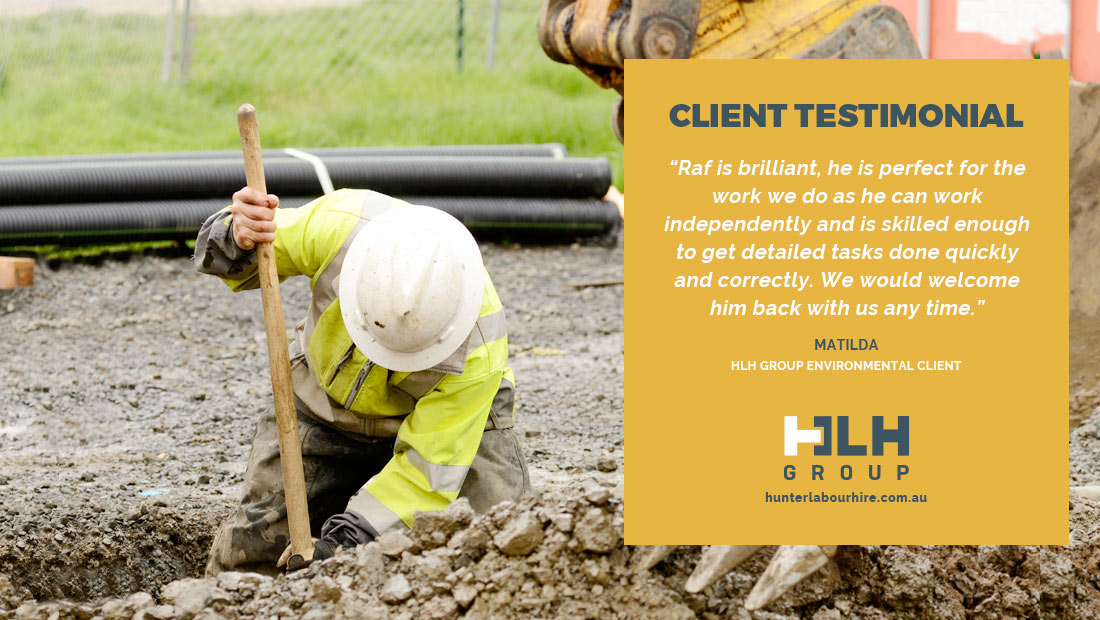 Quality Labour Hire
Raf has been on every type of site possible for HLH Group – an environmental water treatment facility, residential and commercial construction sites, civil construction, landscaping and most recently manufacturing. There is never a complaint from him and from an admin point of view he is diligent with his timesheets and payroll details which is music to the HLH Consultant's ears! We will reward Raf with a Westfield voucher as a small token of our appreciation as we do with all our labourers. At a time when there is a labour shortage in Australia having good quality labourers such as Raf is crucial to the business success. We want to thank all our workers for their continued hard work during these difficult and uncertain times.
If you need labour hire for an upcoming project, or want to join the team, then give us a call on +61 2 8985 2019 or contact us online today.