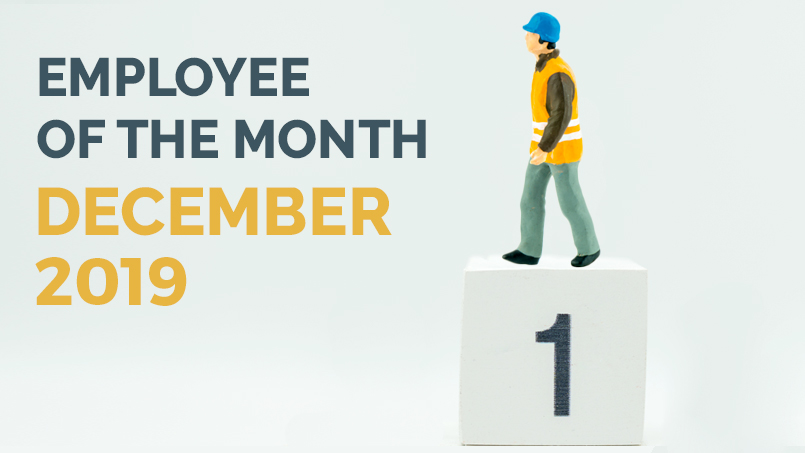 21 Jan

Employee of the Month December 2019
2019 – A Record Breaking Year
2019 turned out to be another record-breaking year for Hunter Labour Hire and our busiest to date since we started in 2015. Throughout the year we have recognised employees who have consistently received great feedback onsite, been reliable every day and brought a great attitude, enthusiasm and work ethic day in, day out. There have been a few outstanding workers to have taken home the "Employee Of the Month" title over the past 12 months, Mark Marini, Haci "The Ginger German" Beker and Maxime Berrera to name a few.
And The Winner Is… Hannes Hegendoerfer
December was an extremely busy month onsite for our workers with plenty of clients having one final push to get projects over the line before the end of the year and as always the guys on site showed why Hunter Labour Hire is Sydney's #1 labour hire firm. After much debate, it was finally agreed that the winner December's employee of the month is Hannes Hegendoerfer.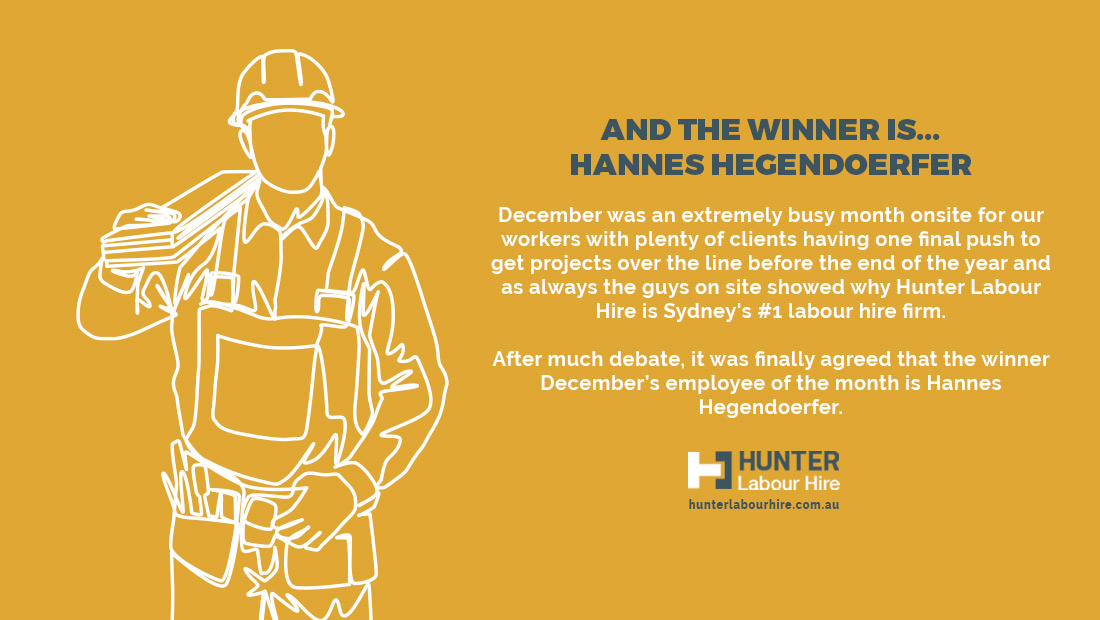 A Great First Impression
Hannes joined the Hunter Labour Hire team in September and instantly left a great first impression on his first shift with one of our scaffolding labour hire clients. This was followed up on his next placement with a roofing client who kept hold of Hannes for the next 2 weeks, commenting on his no-nonsense attitude to work and ability to quickly pick up new skills after being shown how to do a task once. Following the completion of this placement, Hannes started work in October on a breathtaking, split-level, high-end renovation in Newport (as part of our commitment to provide reliable labour hire in the Northern Beaches). Travelling from the city each day, Hannes never missed a day, turned up late or complained about the distance he had to travel. Assisting tradesmen onsite with carpentry and landscaping labour, Hannes quickly demonstrated his ability to follow instructions and get the job done. The client quickly realised he was more than capable of working through his tasks for the day unsupervised and always looking for the next task to do. Hannes has continued to work on the Newport project to this date and also assists at weekends with a fit-out company at various schools and universities in the city. His reliability, attitude and constant great feedback rewarded with weekend work.
Congratulations Hannes on being the final winner of the employee of the month in 2019. We appreciate all your hard work and look forward to working with you in 2020.
Words From Employer
Hannes current employer had this to say:
"Hannes thoroughly deserves employee of the month. Any job he's given he does it exactly how we've asked if not better with no arguments. He has become more of a trades assistant as well as a labourer! Nearly time for him to grab a tool belt! Great bloke."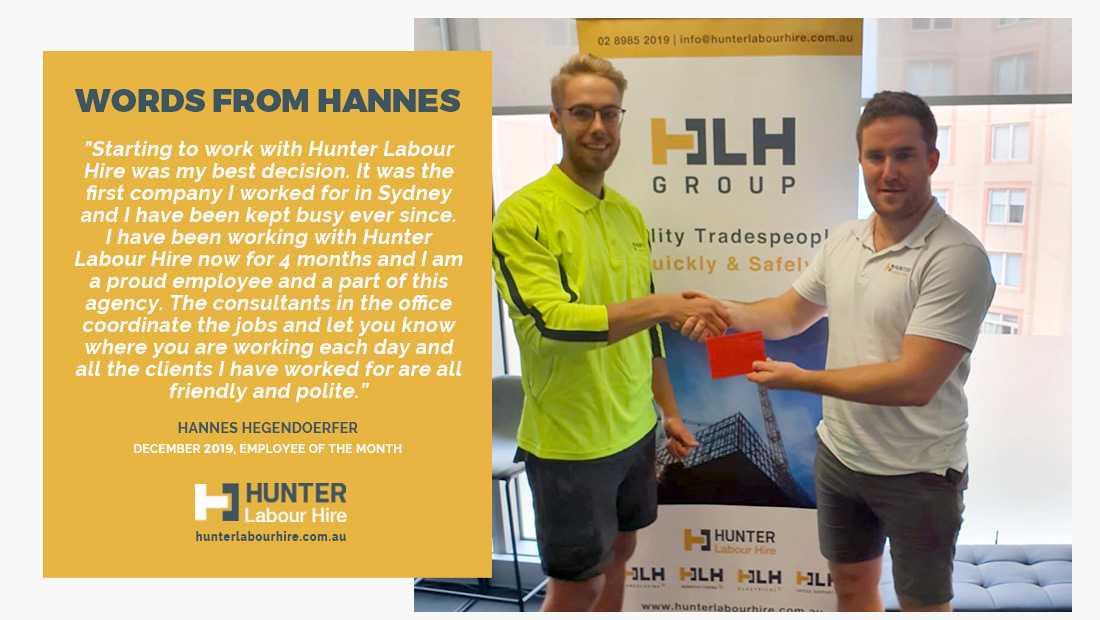 Words from Hannes
On winning December's employee of the month, a delighted Hannes said:
"Starting to work with Hunter Labourer Hire was my best decision. It was the first company I worked for in Sydney and I have been kept busy ever since. I have been working with Hunter Labour Hire now for 4 months and I am a proud employee and a part of this agency. The consultants in the office coordinate the jobs and let you know where you are working each day and all the clients I have worked for are all friendly and polite."
Are You A Future Employee of the Month?
If you see yourself as a future employee of the month then we want to hear from you! 2020 is already off to a flyer and we are busier than ever so if you are looking to work with a labour hire company who cares then apply today!
And, If you would like to book your very own Hannes please call our team on 02 8985 2019 or contact us online to discuss your labour requirements.