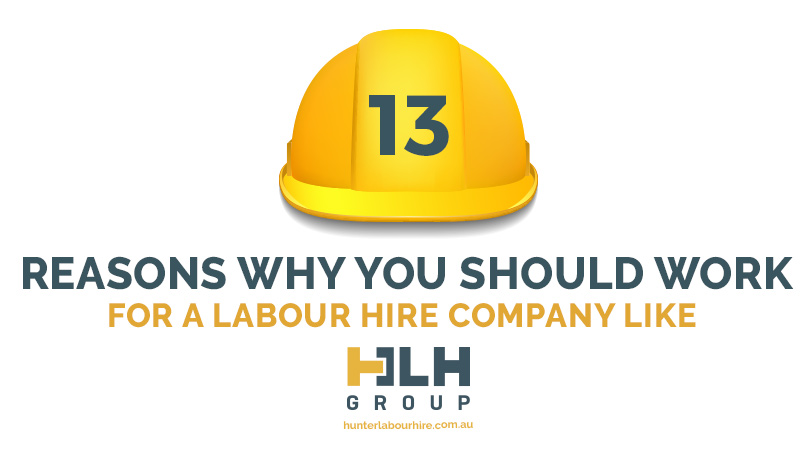 21 Oct

13 Reasons Why You Work for a Labour Hire Company Like HLH Group
Why Work For A Labour Hire Company?
At HLH Group we put pride in who we are and what we do every day as a business. We realise the huge importance that our labour hire services provide to businesses looking to hire casual workers and the vital role we play in providing those seeking meaningful and rewarding employment. Many labour hire companies treat their workforce purely as numbers – few genuinely care but at The HLH Group we put our candidates first as we know that a happy workforce will result in more productivity and thus happier clients. For us, we are all about developing meaningful relationships and treating all candidates with respect and integrity. Here are 13 Reasons we believe that labour hire employment with HLH Group can provide meaningful and rewarding employment for candidates from all backgrounds.
1. We Pay Top Wages
We pay all workers the award rates or higher, no matter the work you are doing you can be assured that HLH Group pays you what you deserve. You also receive your superannuation, penalty rates and allowances as prescribed by the relevant award!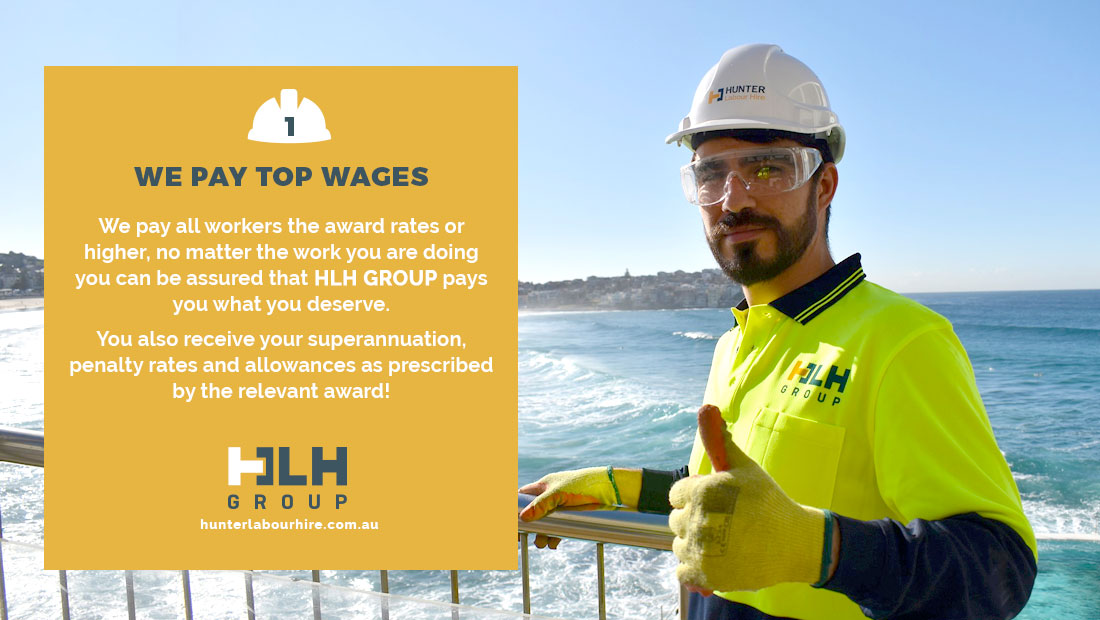 2. Consistent Work
All our top workers get consistent work 5 / 6 days a week. We can provide this because we work with top companies and have a lot of clients seeking a lot of workers to join their sites, warehouses and facilities all the time!
3. Weekly Pay – No Exceptions!
The wages are paid weekly meaning you can be assured of a steady income and not have to chase any employers for a wage. At HLH Group we have heard numerous stories of workers waiting weeks for wages from a day's work they did with a dodgy contractor.
4. New Opportunities to Learn Skills
Working at a labour hire company is an excellent opportunity to learn new skills. One day you could be assisting carpenters to install balustrades the next you could be learning all about fabric tensioning and fabric structures. These are all opportunities that can open many doors to the right person. If you want to try something new and learn new skills then we help you!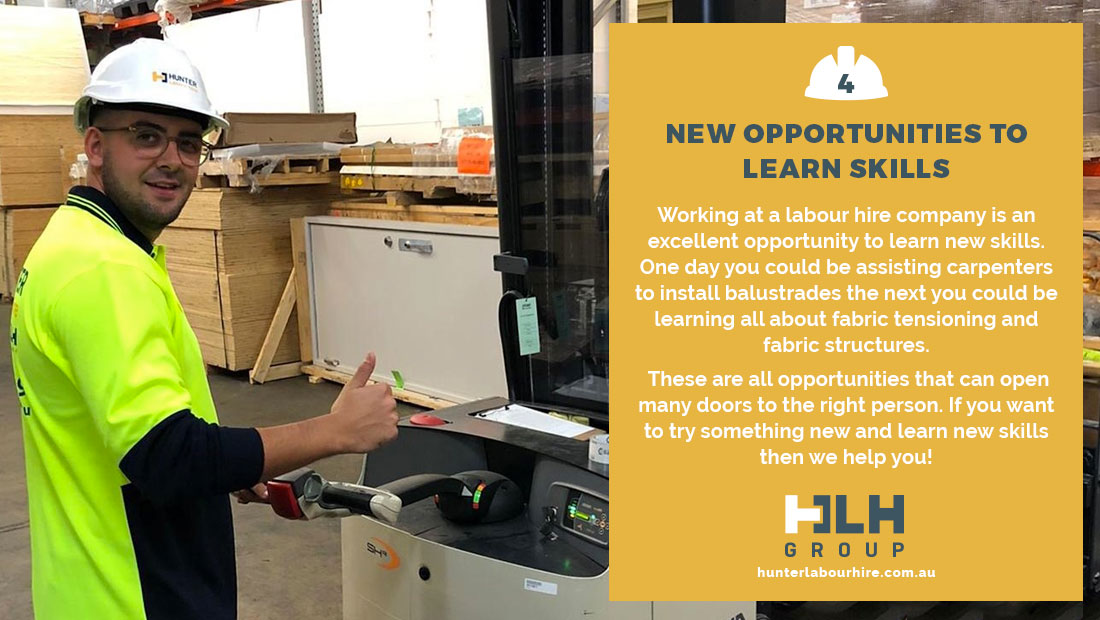 5. Safety Matters
Everyone deserves to work in a safe environment. We only work with clients who ensure they have safe work practices and look after any candidates we send to them. We conduct site visits to check in on sites and ensure everything is safe and there are no issues. Our workers are confident that if any issues do arise, we will deal with them professionally and swiftly.
6. Training and Advancement
From time to time we get jobs on that to require additional training such as confined space or working at heights tickets. In these instances, we provide training to our workers which ensures they understand how to work in different environments safely it also allows them to earn some more money $ per hour as a result.
7. Excellent Communication
Tired of chasing your current labour hire for a response on whether you have a job tomorrow? At HLH Group our account managers are available and willing to respond all the time. Looking for work? Send us a text or give us a call and we will be in touch.
8. PPE Provided
While in most instances you will be required to provide the minimum PPE required (Steel Toe Cap Boots & Hi-Vis). At HLH Group we provide our workers with PPE specific to the jobs they are on such as a wide brim hard hat clip-ons' for sun protection or gumboots for those muddy jobs!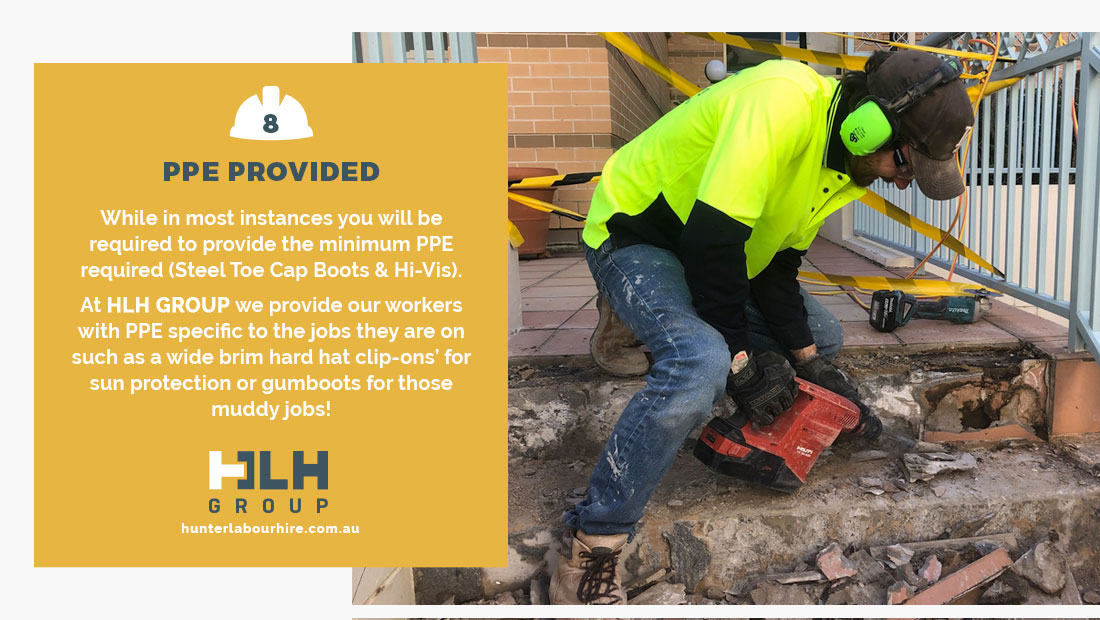 9. Vehicles Provided
We provide vehicles to our workers to ensure that they can reach sites in difficult to reach places. We have brand new cars purchased in 2020 that are available to our workers.
10. Need a Reference?
For many people, labour hire is not a job forever, but it can be a great stepping stone into something bigger. We love providing glowing references for workers who have excelled with us and performed as exemplary members of our team. This can help you to land that next big opportunity!
11. Get yourself a permanent position!
This a recruitment term for when a worker starts off as casual from an agency and then goes directly with the hiring company. This happens a lot of the time to labour hire workers and is done when the hiring company has an agreement in place with HLH Group that benefits both parties.
12. Fully Insured
Everyone who works for HLH Group is fully insured so if an accident ever happens you know you are in safe hands and we will look after you.
13. Highest Rated Labour Hire Company in Sydney
We are very proud of the fact that we have 5-star rating on Google. These reviews are all given to us by past workers and some clients who have had a great experience with the Hunter Labour Hire team. Feel free to check some of them out here.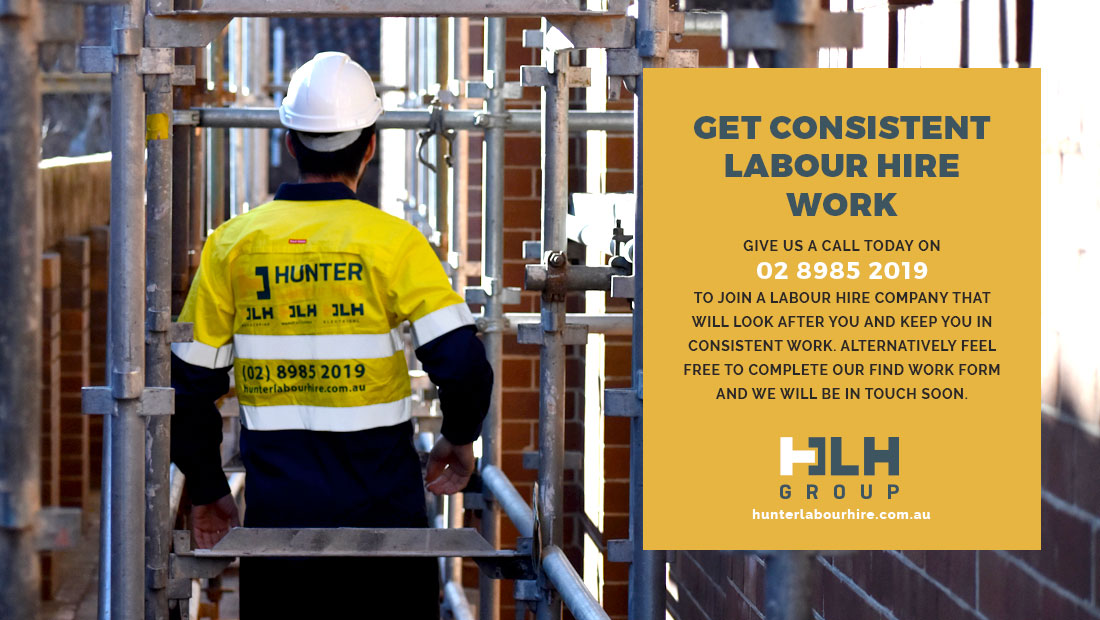 Get Consistent Labour Hire Work
Give us a call today on 02 8985 2019 to join a labour hire company that will look after you and keep you in consistent work. Alternatively feel free to complete our find work form and we will be in touch soon.