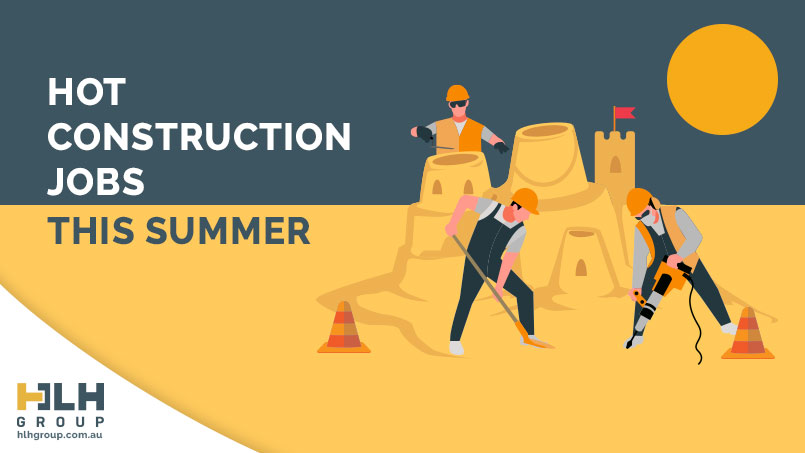 03 Feb

Hot Construction Jobs This Summer
Summer Construction Jobs Sydney
Summer has finally arrived and Sydney's construction industry is booming. The good weather has finally come back with consistent clear skies and high temperatures. It feels like forever we have been waiting for the good weather to return. But finally, it's back!
Safety Reminders for Working in Summer
Now that the hot temperatures are here we must remember to stay safe in the sun when we are working. Here are some sun safe reminders for this summer:
Wear Sunscreen: don't forget sunscreen if you are working out in the sun and reapply every two hours.
Wear Long Sleeve Shirts: There is a reason we supply our workers with these shirts as they provide much-needed protection from the UV rays.
Stay Hydrated: It is recommended that you drink 2 litres of water per day.
Summer Construction Jobs in Sydney
Furthermore, in this blog, we will have a look into the hot jobs this summer at HLH Group. We have a broad spectrum of positions we are recruiting for at the moment so if you don't see something relevant to you below still give us a call as we are sure to be able to assist you in finding your perfect position. Please make sure to send your CV to jobs@hlhgroup.com.au if you are looking to join our team.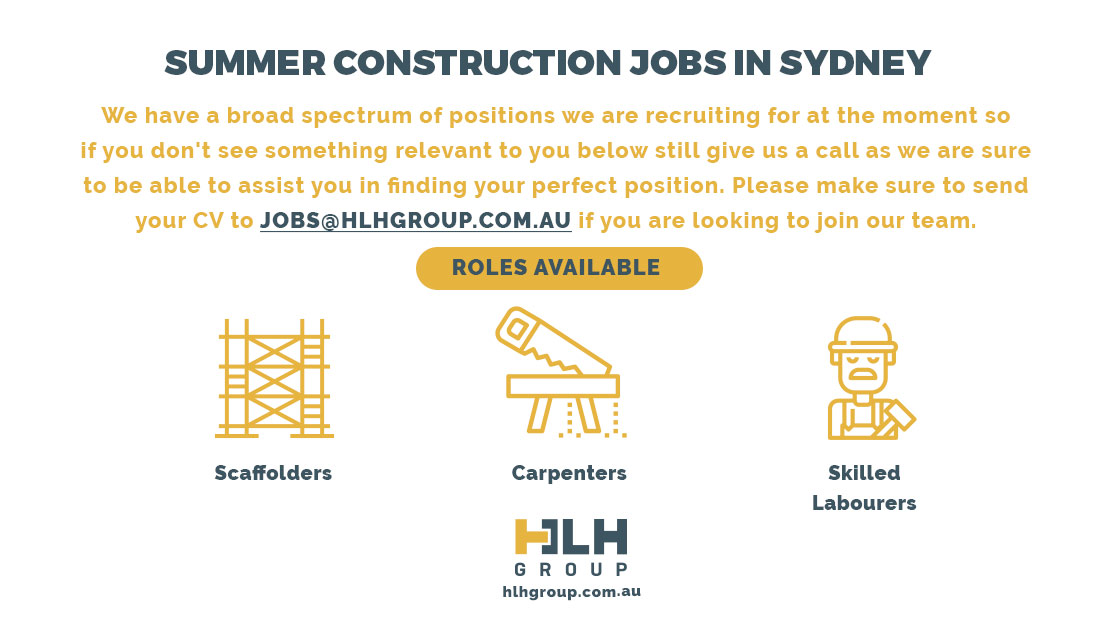 Scaffolders
HLH Group are on the lookout for reliable, experienced scaffolders for an immediate start with long-term work available across Sydney. We are always looking for good reliable scaffolders. A basic Scaffolding ticket is a must with at least two years of experience in Australia or overseas required.
Alongside these, we are looking for labourers with experience working alongside scaffolders. We require scaffold labourers who are familiar with the relevant components. You would need to have worked with multiple systems and be reliable and hardworking so if that sounds like you, then get in touch and we can get you started straight away.
Carpenters
The carpentry sector is very busy for HLH Group at the moment and we are recruiting carpenters across Sydney for multiple long-term projects with Tier 1 and 2 contractors in Sydney's CBD and Eastern Suburbs. We are looking for high-end finishing carpenters with an eye for detail and a passion for carpentry.
If you are just arriving from abroad with no tools do not worry as we can accommodate you. We are here to help you find your feet. We have multiple packs of tools we can lend to you or we can purchase tools for you and we can deduct the tool's costs from your paycheck each week. Look no further as we are here to help you get your career kickstarted here in Australia.
Skilled Labourers
Skilled labourers are crucial to the success of any building site, we are looking for candidates with two years plus experience who can turn their hand to all aspects of construction relevant experience in Australia or overseas is necessary. The right candidate must be experienced with all power tools, be familiar with most aspects of construction and most importantly have a can-do attitude.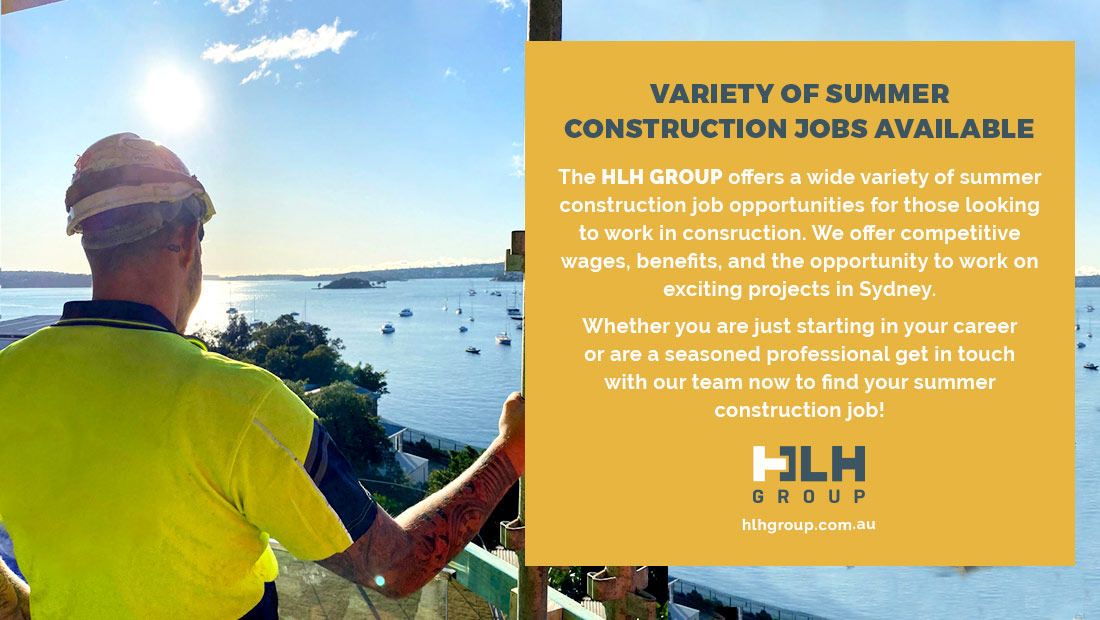 Variety of Summer Construction Jobs Available
In conclusion, the HLH Group offers a wide variety of summer construction job opportunities for those looking to work in the field. All our construction positions offer competitive wages, benefits, and the opportunity to work on exciting projects in Sydney. Whether you are just starting in your career or are a seasoned professional, there is a place for you in the construction industry. With the increasing demand for new construction projects, it's a great time to consider a career in construction and gain valuable skills and experience. If you feel like you are the right person for the job complete our online registration and a member of our team will get back to you asap!