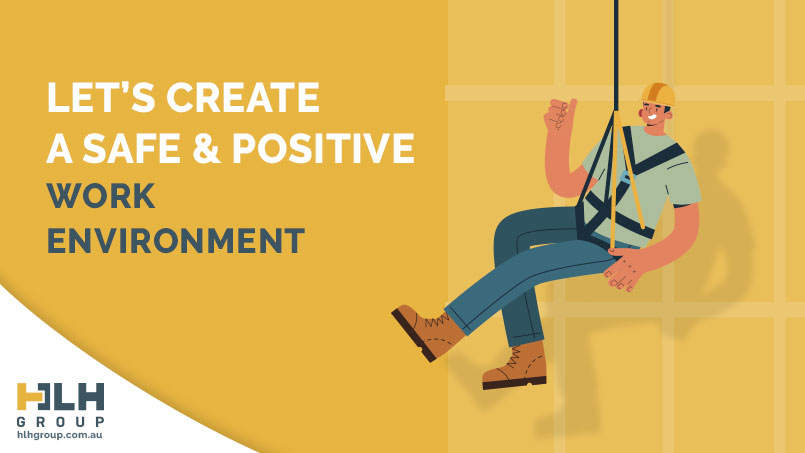 27 Oct

Let's Create a Safe and Positive Work Environment
Importance of a Safe Work Environment
Considering how long we spend working, where we work plays an undeniably large role in our well-being. It can influence whether we arrived motivated and enthusiastic or if we view the day as a countdown to quitting time. In this post we'll talk about how to create a safe work environment and the importance of it.
Safe Work Environment – A Goal for Employers
Any work environment should be a safe and positive place. Such a workplace environment will bring the best out of all employees, keep retention rates high, reduce injury incidents and costs and improve the overall productivity of the business. High levels of trust and support, strong communication, encouragement, and compassion are some hallmarks of a good and positive workplace. The goal for most employers will be to foster a strong, collaborative, and positive place to work.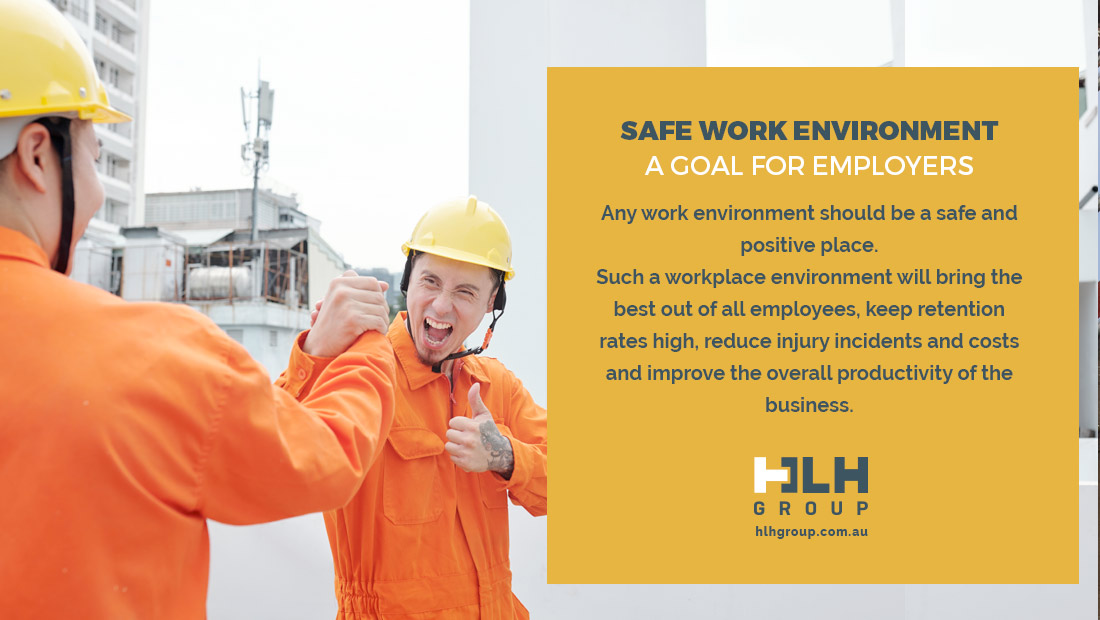 10 Tips on How to Create a Safe & Positive Work Environment
Get your team to show appreciation for each other
Keep all discussions open and transparent
Comprehensive training and education
Understand one another's ways of working
Celebrate team wins
Spend time together not working
Reflect on the week together
Trust your team
Set boundaries and expectations together
Use anonymity where appropriate
Healthy Measures to Take
Some key measures to help create a healthy and safe workplace and improve mental health include:
having effective policies and procedures
offering flexible working arrangements
developing mentoring and peer support systems
providing access to counselling services and/or specialist support groups
developing a greater understanding through education and training
ensuring safe and healthy work conditions.
Breaking the Stigma of Mental Health
46% of Australians experience a mental health disorder during their lifetime, yet less than half of all people with mental health conditions seek help; a disappointing 27.5% of males and 40.7% of females accessing services for mental health problems.
There are many factors that influence whether or not a person seeks help for their mental health, but a major factor is stigma. Many feel it is embarrassing and even shameful to talk about their mental health problems, and so avoid speaking up and seeking help.
Erasing the stigma around mental health is important in suicide prevention. It is important to recognise mental illness is treatable and recovery is possible. Often, people will speak with a friend, family member or faith leader before they talk to a mental health professional. By becoming educated on mental health and suicide prevention, and taking steps to combat stigma, we will be able to support those in their recovery process and facilitate those seeking professional help.
Many people find themselves personally involved with the topic of mental health. We may be affected when a loved one experiences a mental health issue. Knowing what to say, how to act, or what we can do to help is not always clear. Other times, we might be the one who is struggling. Anxiety, depression, trauma—these conditions and others have affected billions around the world and throughout history.
Talking about mental health can give us freedom to seek help, find people who can relate, and move toward well-being. Let's continue the conversation about mental health. Together, we can work to stop the stigma surrounding issues many of us face!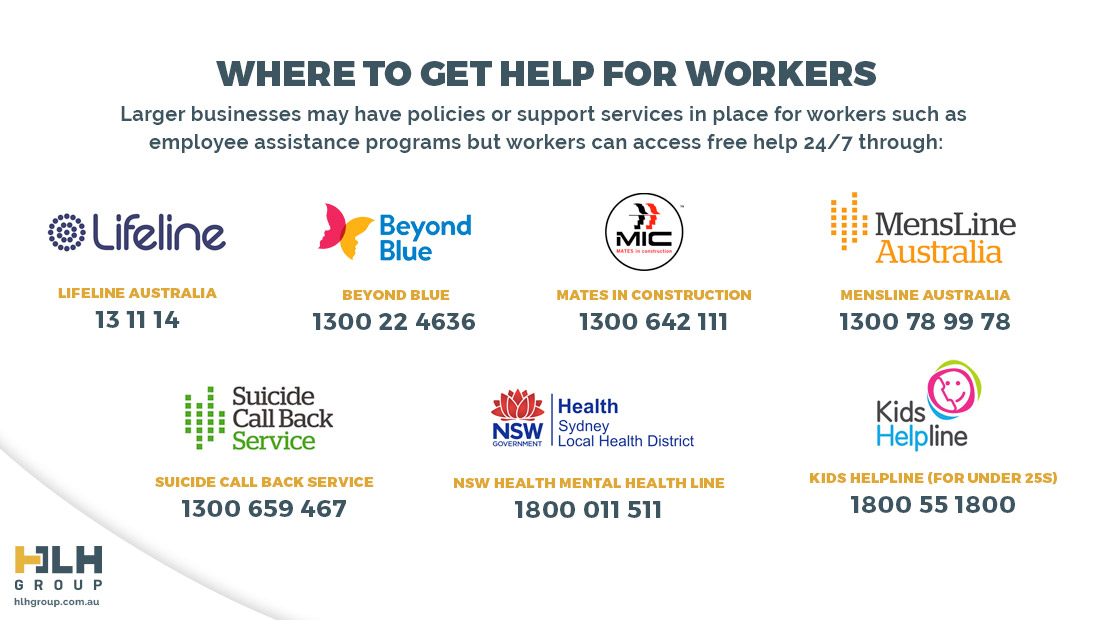 Where to Get Help for Workers
Larger businesses may have policies or support services in place for workers such as employee assistance programs. Whilst it is the responsibility of employers to manage psychosocial hazards in the workplace, workers can access free help 24/7 through:
Lifeline Australia – 13 11 14
Beyond Blue – 1300 22 4636
MensLine Australia – 1300 78 99 78
Suicide Call Back Service – 1300 659 467
NSW Health Mental Health Line – 1800 011 511
Kids Helpline (for under 25s) – 1800 55 1800
Mates in Construction – 1300 642 111
The websites mentioned below (Heads Up, Black Dog, Guarding Minds at Work) all host valuable information and tools that can assist small businesses, including sole traders, to develop simple, cost-effective strategies to build psychological resilience at work.
http://www.headsup.org.au/
http://www.blackdoginstitute.org.au/
http://www.guardingmindsatwork.ca/
Focus on a Safe Working Environment
At HLH Group we pride ourselves on doing what we can to create a safe and positive working environment with regular toolbox talks, our safety officer Pat and a genuine concern for our staff – we're all in it together like! If you'd like to join the team or work with a company that focuses on safety then give us a call on +61 2 8985 2019 or contact us online.