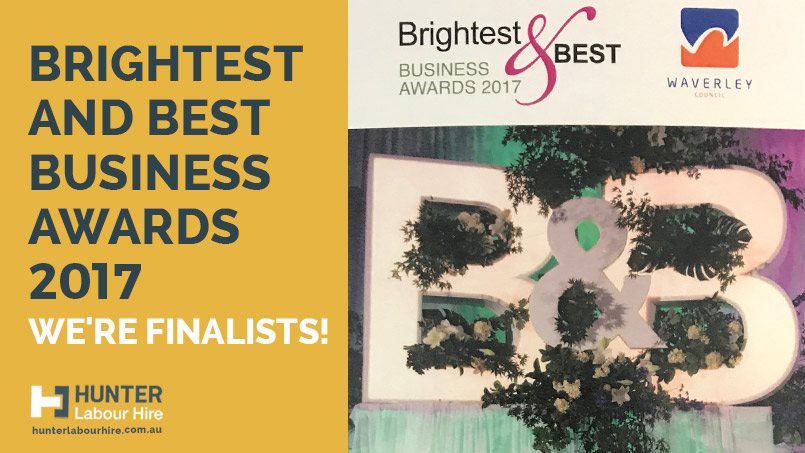 27 Sep

Brightest And Best Business Awards 2017 – We're Finalists!
What are the Brightest and Best Business Awards?
"Waverley Council through its Brightest & Best Business Awards recognises the importance of a sustainable business community that is vibrant and robust and supports the creation of jobs and business opportunities." – Waverley Council
The competition is open to all businesses based in Waverley regardless of their size or industry. Hunter Labour Hire are proud to announce that they are now finalists in the Professional and Educational Services Category. The winner will be announced at the Gala Awards Dinner on Monday 13th November 2017 at the East Leagues Club, Bondi Junction.

Brighest and Best Business Finalists Move To Bondi
After spending a year in the hustle and bustle of the CBD it was decided a move to Bondi Junction would be the best move for Hunter Labour Hire. Since we arrived to Oxford Street in Bondi Junction the move has been a success not only for us but also for local business here.
Local Bondi Businesses Fueling Brightest and Best Finalists!
Nigel, our business developer, has contributed more than his fair share to the local food scene, special mentions will go to The Meat Store and Monty's Sandwich Shop. Sarah our Finance Manager having never stepped foot in a gym is now a fully-fledged member of Elixr and is a massive fan of Wednesdays boxing session. Sorcha the Director can't wait for the Village Markets to start from Wednesday onwards the choice of food is exceptional and delicious. Joe, our other business developer, must have tried every coffee place around the office with good reviews for Sabbaba and About life. Laird has certainly been active having burritos on a regular basis and the occasional honey chicken. Westfields has also seen it fair share of money spent along with some of the local pubs when Friday arrives! A big thanks to all the local business for keeping us fueled and helping us become finalists in the Brightest and Best Awards for 2017!
Previous Winners of Waverley's Brightest & Best Business Awards
Previous winners of the awards include Max's shoes on Oxford Street and the Bucket List on Bondi Beach.
A little bit about some of the past winners; Max's shoes opened his first shop on June 15th, 1974 initially selling woman's and men's clothing. The bohemian spirit was alive back in those days and had the ladies walking into Max's shoes and emptying his shop of all the bikini bottoms leaving just the tops. What Max did with those tops we will never know! Sadly, Max's shoes closed in the year 2016 due to increased rent and competition from online retailers.
Another past winner is the Bucket List on Bondi Beach this is an institute for locals and backpacker's alike. On any given sunny summers day, you will find the Bucket List brimming with people from all over the world cooling off with an ice-cold drink.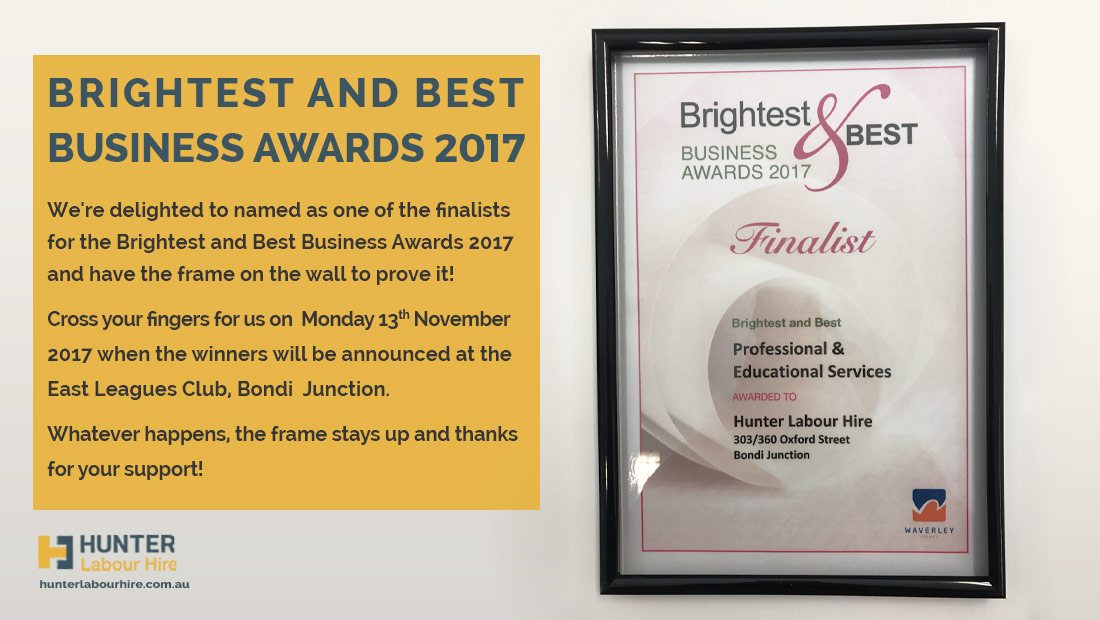 Giving Back To Bondi – Source of Employment
The move to Bondi Junction has allowed us to give back to the local community, we have had a steady flow of guys and girls walk into the office to register with us for work. We have placed a number of these candidates on construction sites throughout Sydney and as such become a new source of employment for people residing in the area.
Hunter Labour Hire are always looking for experienced labourers and tradespeople if you are interested in discussing suitable opportunities please call us on 02-89852019, email your resume to jobs@hunterlabourhire.com.au or contact us online for more info.