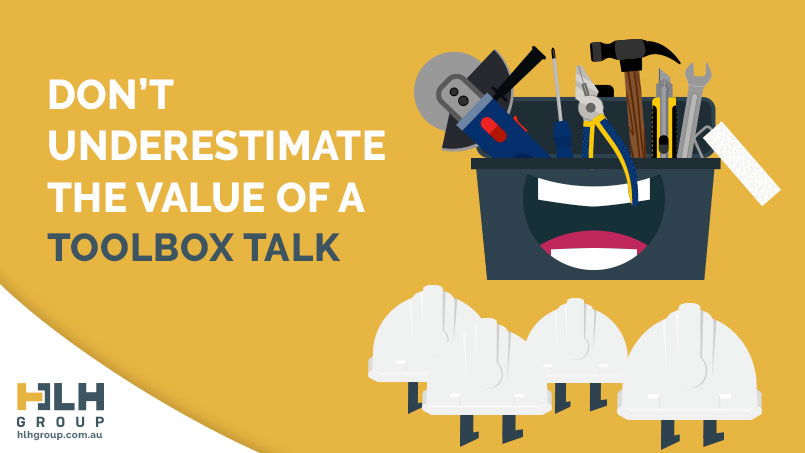 21 Apr

Don't Underestimate the Value of a Toolbox Talk
The Value of a Toolbox Talk
With 'World Day for Safety and Health at Work' approaching on the 28th of April, I think it's appropriate to highlight the importance of the humble Toolbox Talk.
What is a Toolbox Talk?
A toolbox talk is a short safety talk that's delivered at the workplace and on a specific subject matter such as safety topics, safety events and the work activities of the day. The objective is to raise awareness of a particular aspect of the work but to do it regularly so that good safety measures are reinforced. When conducting a Toolbox meeting, we should remember that the purpose is to keep workers informed of potential hazards, any safety and reporting procedures as well as offer training. Try not to overwhelm the workers with lots of information. Instead, have shorter and more regular meetings, leaving the workers with a couple of points to absorb each meeting.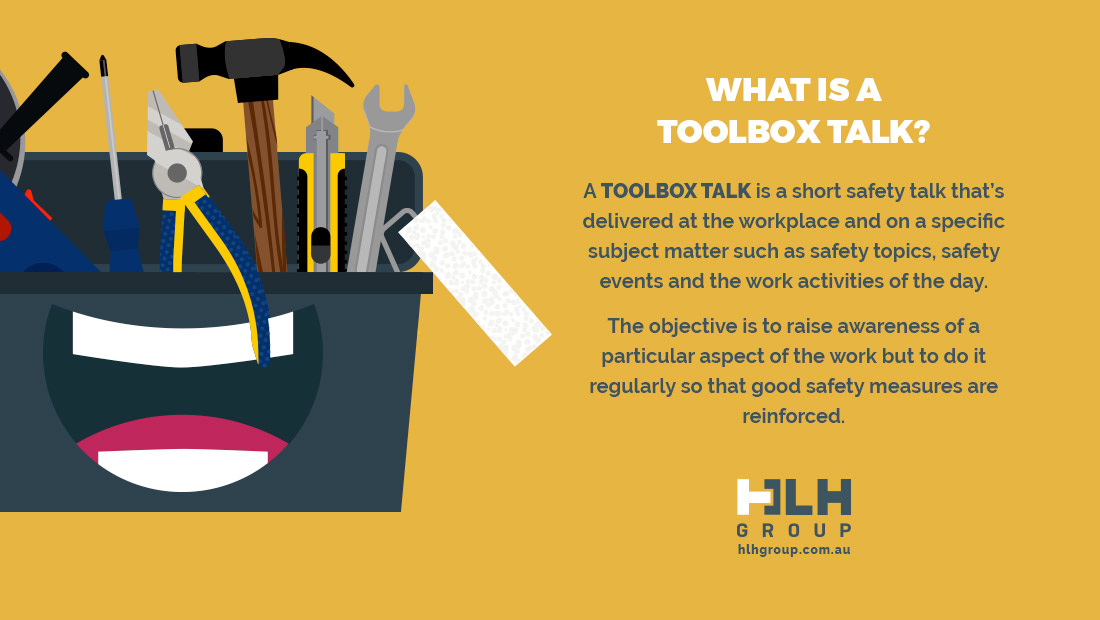 Benefits of Toolbox Talks
Toolbox talks are a great way to reinforce safety basics, focus on high-risk scenarios like working at heights and inform workers about changes to the job site and working conditions that may have occurred since their last shift. Be sure to discuss and cover any accidents or injuries that have occurred and how they could have been prevented.
The safety of all employees should always be the most important priority for any employer. That is why employers should be focused on building a positive safety culture in the workplace by holding talks and training on safety matters. The government is also keen on protecting workers by putting up laws that require employers to provide safety and health information to their workforce.
A Commitment to Safety
Regular toolbox talks help create a company-wide commitment to safety. They highlight to every employee that safety is not a once and done annual checklist item, but an ongoing priority and area of focus. These short and scheduled discussions promote teamwork and drive a safety-first approach. The more you reinforce safe practices and proper procedures, the less likely there will be a disconnect between the official safety training and what is actually done on a day-to-day basis.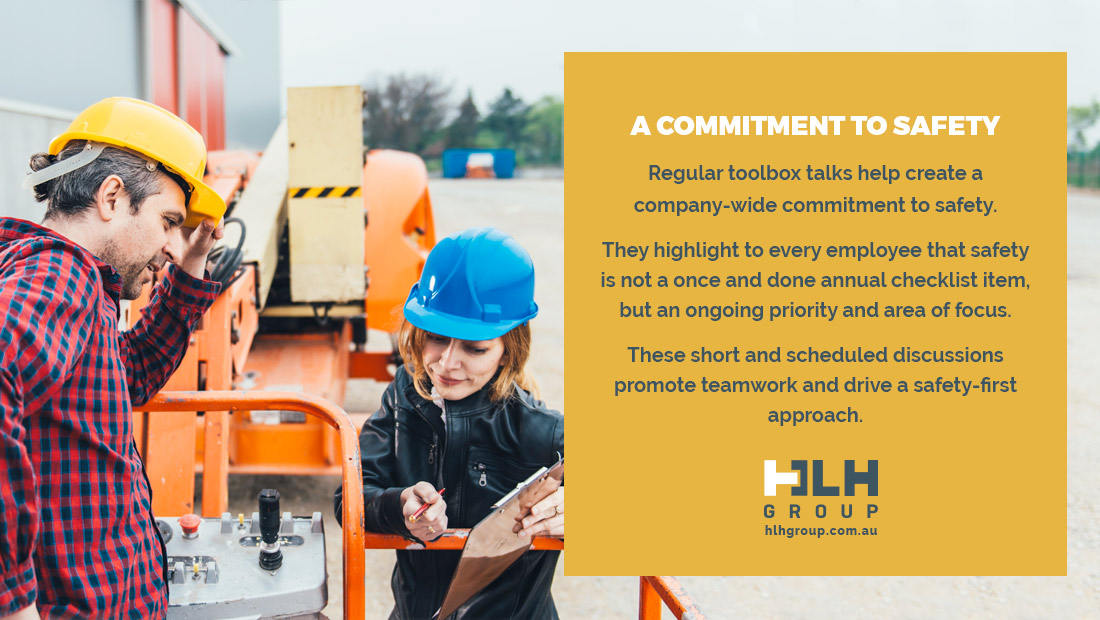 Introducing New Safety Policies
These meetings and talks are also the perfect time to introduce new safety policies and procedures you are implementing as well as to provide training on new safety rules and regulations to stay compliant with state and federal WHS standards. The workforce is continuously evolving. By hosting regular toolbox talks, you can make sure your team stays up to date with the latest safety updates and best practices. Plus, it ensures the basics are regularly refreshed.
6 Tips for a Successful Toolbox Talk
Keep it Short: Toolbox talks should be around 10 – 15 minutes.
Focus: Focus on one topic relevant to the work being done that day.
Worker Involvement: Get workers involved by asking questions or having them demonstrate safe work practices.
Changes: Be sure to cover changes to the site or working conditions.
Inspections: Have employees inspect tools, equipment and PPE.
Q&A: Allow for questions and answers at the end of the toolbox talk.
Be sure to focus on the positive, too. Toolbox talks should highlight safe working practices observed to provide positive reinforcement and applaud workers who are adhering to safety rules and regulations. Toolbox talks are a great time to have employees inspect the equipment, tools, and PPE they will be working with that day to ensure they are in proper working condition.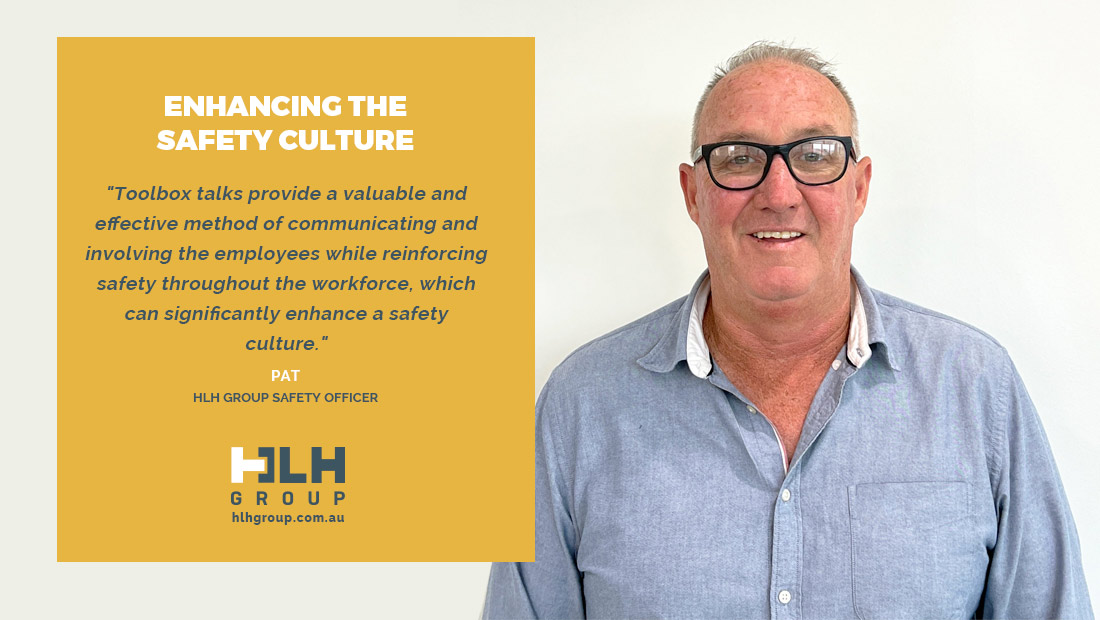 Enhancing The Safety Culture
In summary, toolbox talks provide a valuable and effective method of communicating and involving the employees while reinforcing safety throughout the workforce, which can significantly enhance a safety culture. The cost of implementing a toolbox talk system is minimal, under 15 minutes a week, and the benefits include more inclusive awareness, with the potential to reduce incident rates, downtime and equipment damage and possibly even save a life. And remember, have a happy World Day for Safety and Health at Work.