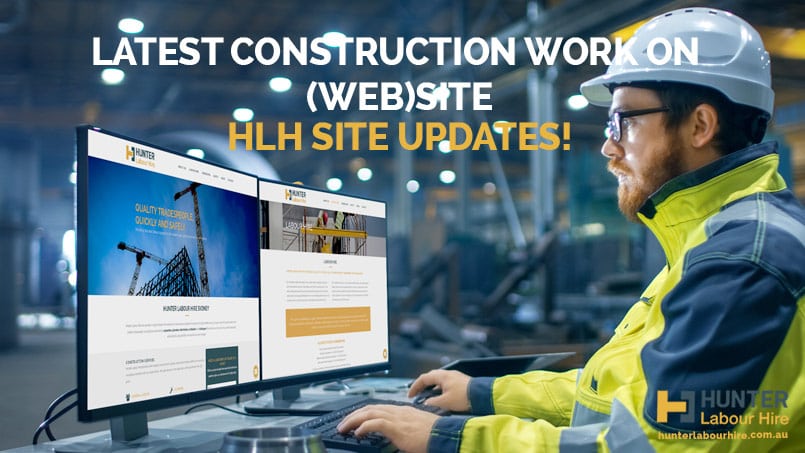 14 Jun

Latest Construction Work on (web)Site – HLH Site Updates!
Construction Work On (Web)site!
Hunter Labour Hire's clever IT and graphic design experts have been busy carrying out a different kind of construction work this week…website building! We're proud to introduce the fresh and updated Hunter Labour Hire website.
Amongst many of the site updates, Hunter Labour Hire now have a streamlined navigation and layout to provide the right information quickly. Including the types of labour hire we can supply with a one-click form – to simply request a tradie or labourer, anywhere, anytime. And some brand new site sections so you can meet the great team behind the tradies at Hunter Labour Hire. Check out some of our new pages linked below!
HLH Site Updates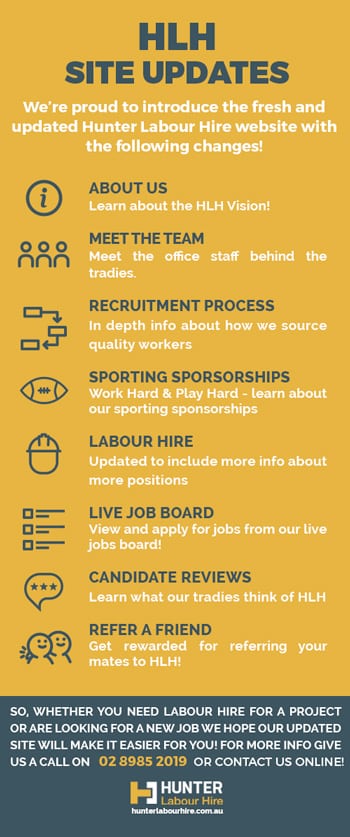 About Us
Our updated about us section introduces you to the HLH team and gives you an insight into the HLH vision and how we ensure we live up to this every day.
Meet the Team
Who's behind the tradies? The HLH office team has grown now with 7 full time office staff and hundreds of placements we have each week around the Sydney region. You can meet us here.
Recruitment Process
HLH gives you in-depth information on our crucial 6-step recruitment process to show you how we ensure that the quality of the workers we supply is always up to the high standard that our clients expect.
HLH Sporting Sponsorships
One of our favourite company mottos here at Hunter Labour Hire is 'work hard and play hard!'. We are sponsoring two sports clubs this season – you can find more info here.
Labour Hire
Our updated labour hire section goes into detail about each trade that we can assist you with and what our tradies can bring to your site. As well as an easy one-click form to simply request a tradie or labourer, enabling us to respond rapidly whenever and wherever labour hire is required in the Sydney Region.
All the way from general labourers to skilled tradespeople we can assist and deliver at your request! On our books we have some of the best carpenters, plumbers, electricians, scaffolders, bricklayers and many more.
Site Changes for Jobseekers
All Our Jobs in One Place
Our new user-friendly navigation means you can easily check out and apply for whatever jobs we currently have available and our latest hot jobs. These applications come straight into our inbox so once one of our team has had a chance to review your resume we will back in contact with you. If you don't see a specific job that you are interested in you can also register for work and when a suitable position arises for you we'll get in touch then!
Candidate Reviews
We are very proud of our 5 star review status on Facebook and Google and these reviews are now linked directly to our website and all new reviews will appear on our candidate review page. These show what exactly it is like to work for Hunter Labour Hire if you would like to join them team please send your resume to jobs@hunterlabourhire.com.au.
Refer A Friend
Our refer a friend scheme keeps going from strength to strength and is available to all to refer some staff to us. If we take them on they work a week then you'll get yourself a €50 Westfield voucher – simple! Check it out and refer your mates here!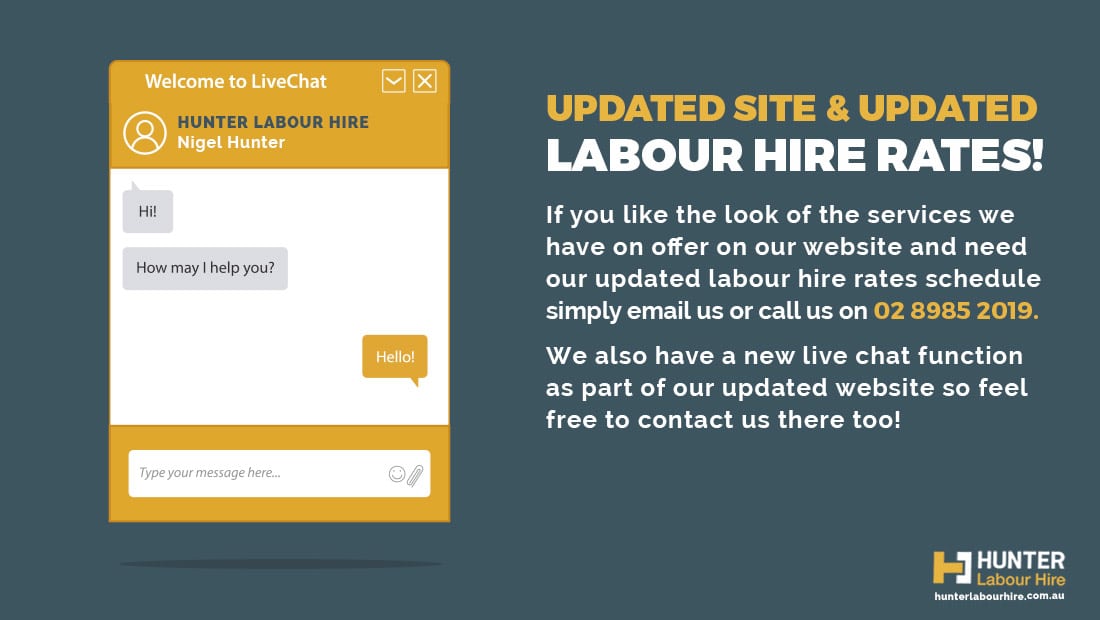 Updated Site & Updated Labour Hire Rates!
Alternatively if you like the look of the services we have on offer on our website and need our updated labour hire rates schedule simply email us or call us on 02 8985 2019. We also have a new live chat function as part of our updated website so feel free to contact us there too!