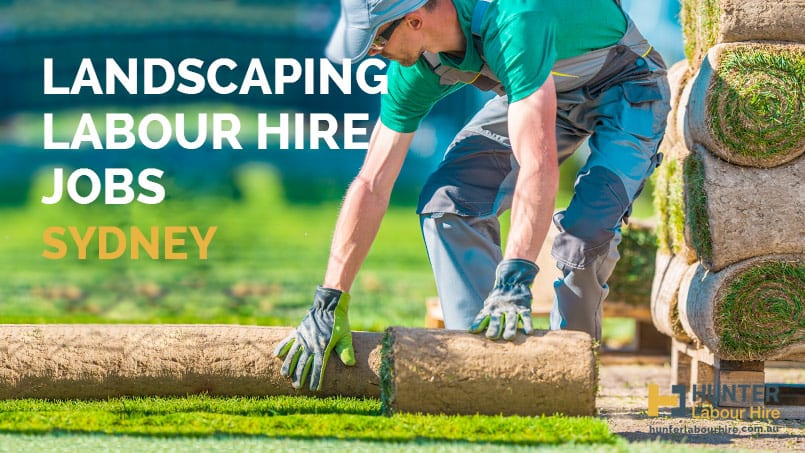 24 Oct

Landscaping Labour Hire Jobs Sydney
Landscaping Labour Hire Jobs Sydney
At Hunter Labour Hire we provide the best labour to landscaping and garden maintenance companies throughout the Sydney Metropolitan Region. We recently launched the landscaping labour hire wing of the business and have been inundated with business since.
What Jobs Are Available in HLH Landscaping?
Since we started providing landscaping labour hire services we've now built up a range of jobs that have to be filled. Check out some of the positions that are available and if you have some landscaping experience then we want to hear from you!
Landscape Labourer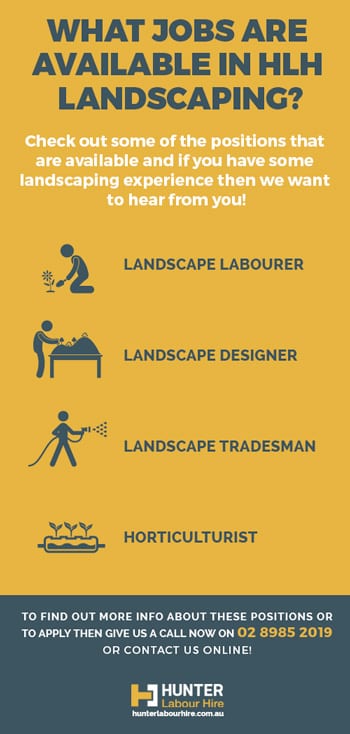 Garden / Estate Maintenance: We employ staff that perform maintenance throughout Sydney with tasks performed including using whipper snippers, hedge trimmers, lawn mowers and general upkeep of green areas.
Planting: We can supply teams of planters to plant large amounts of shrubs, bulbs and other greenery.
Soft / Hard Landscape Construction: If you have experience in landscaping digging trenches for retaining walls or installing finishing stone work we can assist in finding you work.
Horticultural Works: If you are an experienced horticulturist then we have clients looking for people with your skillsets now.
Tree Lopping & Groundworks: Services such as tree lopping and associated groundworks.
Landscape Designer
We often have clients seeking creative individuals to assist them in their journeys to create exceptional gardens, outdoor spaces and features. If you hold design / architecture qualifications and a passion for the outdoors then this would be an ideal position. We are often looking for landscape designers to join some of Sydney's top landscaping companies, while we also have unique opportunities with boutique landscapers.
Landscape Tradesman
As a landscaper you will be able to create something out of nothing. Reshaping the natural environment in to new spaces. You will have a passion for the outdoors and have keen eye for detail. You will need to have completed an apprenticeship in landscaping which usually takes four years with a mixture of classroom and on-site practical experience. Overseas qualifications are often accepted if they are backed up with suitable experience.
Horticulturist
Our clients are looking for workers who have experience and expert knowledge of Australian flora. They know how to select and cultivate the right plants for environments to create suitable greenspaces that thrive. In Australia most positions will require you to hold a Certificate 3: Parks and Gardens or Certificate 3: Horticulture as a minimum however overseas qualifications may be accepted in some circumstances. You will be expected to hold good knowledge of Australians native species.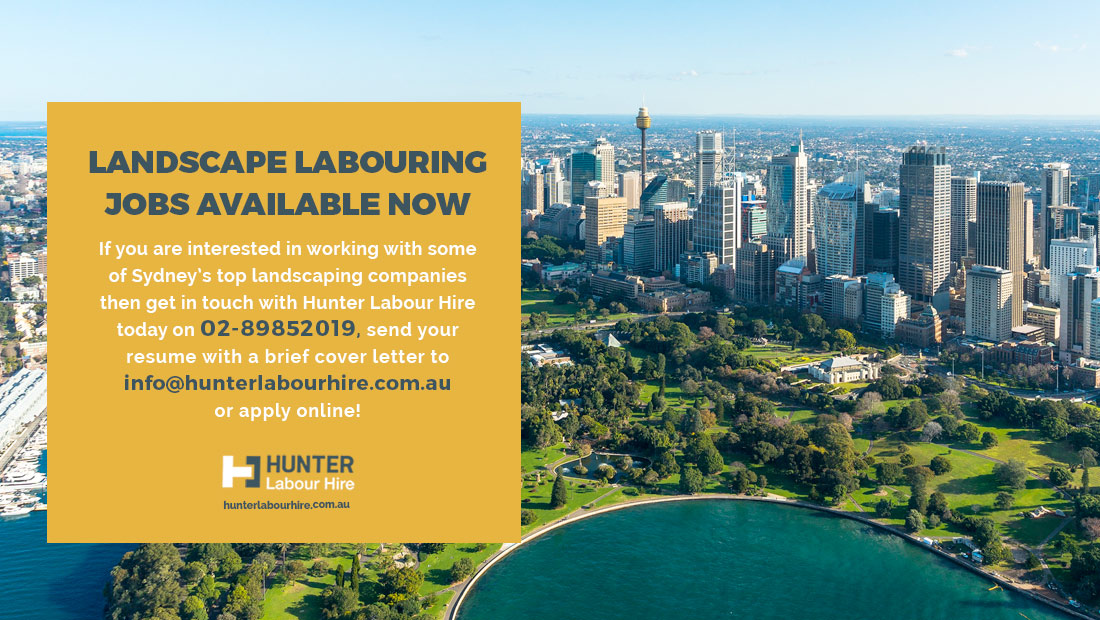 Landscape Labouring Jobs Available Now
If you are interested in working with some of Sydney's top landscaping companies then get in touch with Hunter Labour Hire today on +61 2 8985 2019 or send your resume with a brief cover letter to jobs@hunterlabourhire.com.au.