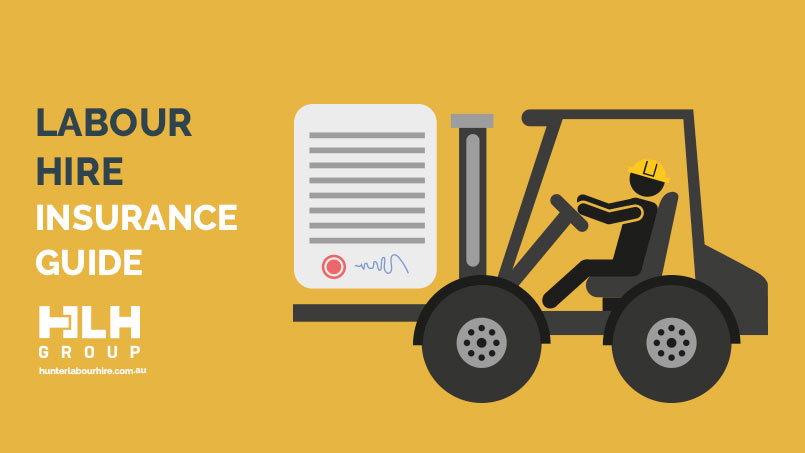 19 Nov

Labour Hire Insurance Guide
Guide to Labour Hire Insurance in NSW
Insurance is an arrangement that guarantees compensation of losses incurred to a person(s). Insurance is a means of protection and assurance from financial loss. Employers need to ensure their workers to protect against public liability in cases of negligence or failure to act in a responsible way that has resulted in injury, damage or death to someone or something. In this post we'll give you the lowdown on labour hire insurance for New South Wales, read on!
Labour Hire Insurance – Who's Responsible?
A labour hire company will typically be responsible to ensure their employees as they are providing them as a service to their clients. So as part of the charge rate to clients, insurance is one of the costs involved. They cover workers' wages, costs, and other aspects of their employment even though they are hiring them out to a client. Because labour hire companies are receiving payments for workers services, adequate insurance on the worker must be put in place by them as they are the worker's legal employer. This is essential to the worker's health and safety. Insurance of the worker is essential in cases where workers are held liable for actions that may have resulted in incidents or accidents occurring.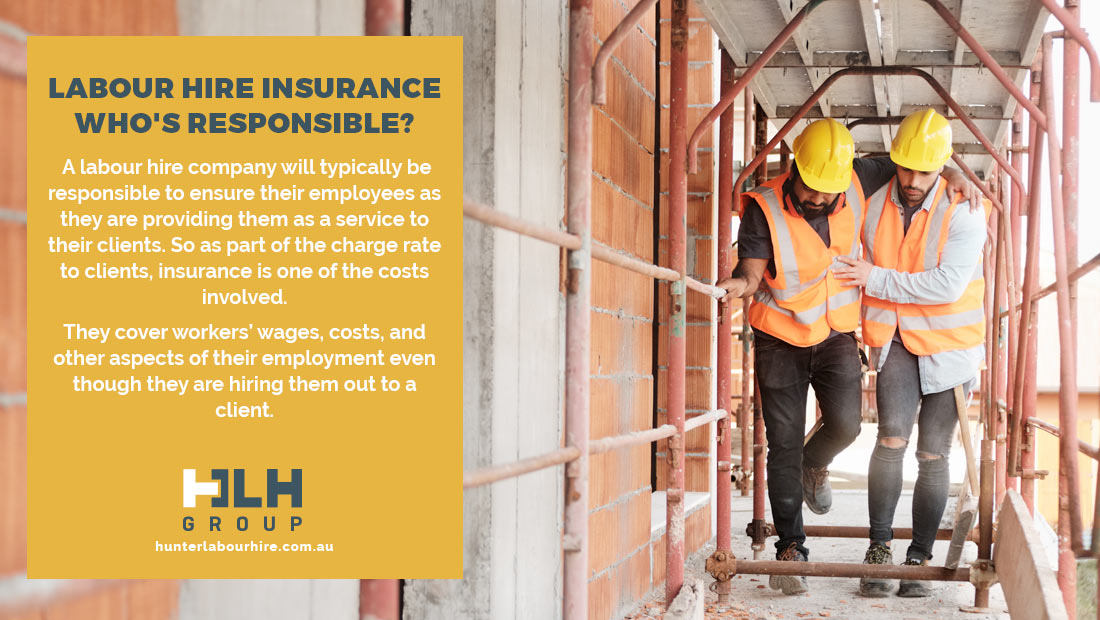 What Insurance is Included in The Hourly Rate?
Public Liability Insurance: HLH Group provides all its casual workers with public liability insurance. This protects your company if any of our workers are found to be legally responsible for any personal injury to a third party or damage to their property. This is very important as it helps protect your business in the event of any unlikely accidents.
Workers Compensation Insurance: Every employer in NSW is required to hold workers compensation insurance. HLH Group provides all temporary employees supplied on a labour hire basis with workers compensation insurance. Workers compensation provides employees with a temporary income should they become injured in the workplace and as result are unable to work.
Types of Insurance in Labour Hire
The main types of insurance are:
Professional Indemnity & Public Liability refers to cover for losses that arise from the actions a person that put others in danger. These losses can be damage to person or property, an omission of carrying out appropriate safety steps, causing financial loss or physical injury to a party. The importance of adequate professional indemnity and liability is crucial for businesses in Australia so that accountability is held when incidents occur that put others in danger.
Workers Compensation Insurance refers to wage replacement and medical benefits to employees injured in exchange for mandatory relinquishment of the employees right to sue their employer. The State Insurance Regulation Authority (SIRA) is the governmental organisation responsible for regulating workers compensation in New South Wales.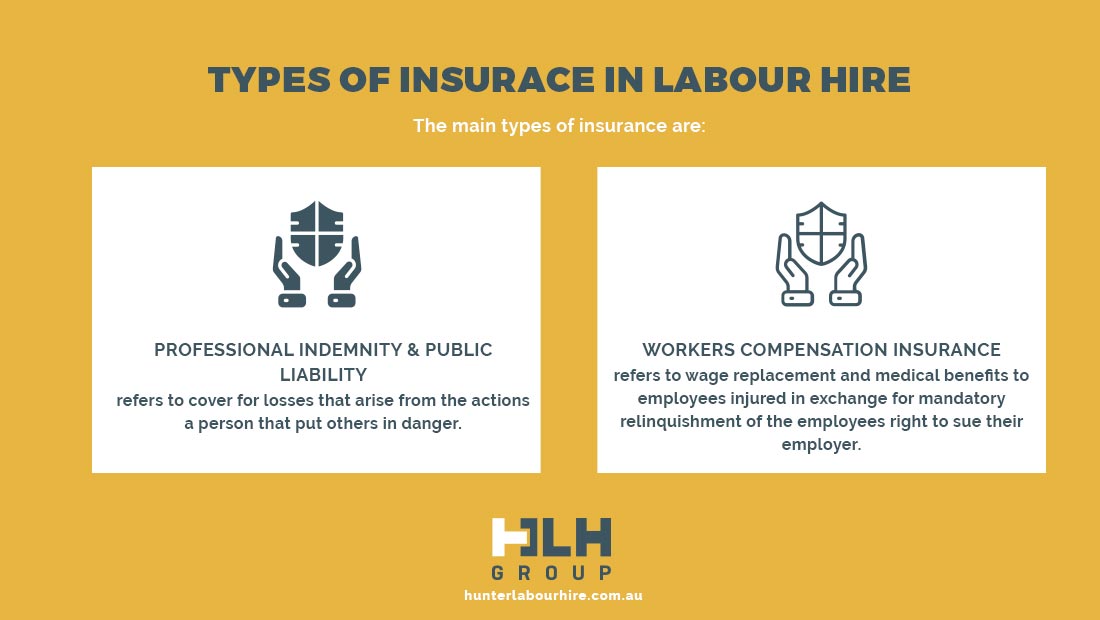 Types of Insurers in NSW
There are three types of insurers in the NSW workers compensation system.
icare: icare delivers insurance and care services to people with work-related injuries under the NSW workers compensation scheme.
Self-insurers: Some individuals choose to manage their worker's compensation. However, they must be approved by SIRA. This option is popular with workers that have set up a PTY LTD or Australian Business Number (ABN).
Specialised Insurers: these insurers hold a restricted licence to provide workers compensation for a specific industry.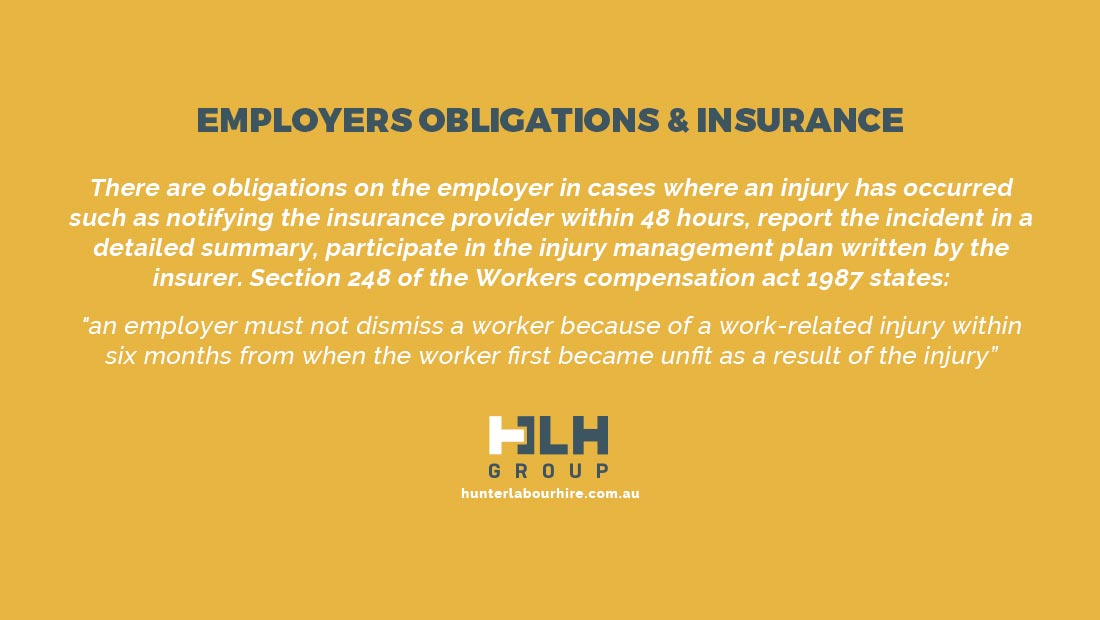 Employers Obligations and Insurance – Section 248
There are obligations on the employer in cases where an injury has occurred such as notifying the insurance provider within 48 hours, report the incident in a detailed summary, participate in the injury management plan written by the insurer. Section 248 of the Workers compensation act 1987 states:
"an employer must not dismiss a worker because of a work-related injury within six months from when the worker first became unfit as a result of the injury".
Worker's Compensation Process
There are four steps involved in the worker's compensation process which include responding to an incident, supporting your worker, identifying suitable duties to make the full transition back to work more suitable and lastly, developing your worker's plan. This plan may involve ensuring light duties are given to the affected employee, correct rehabilitation is carried out by the employee and modify the workplace in a way that suits their needs. A medical professional will need to sign off on the employee returning to work to deem them fit and safe.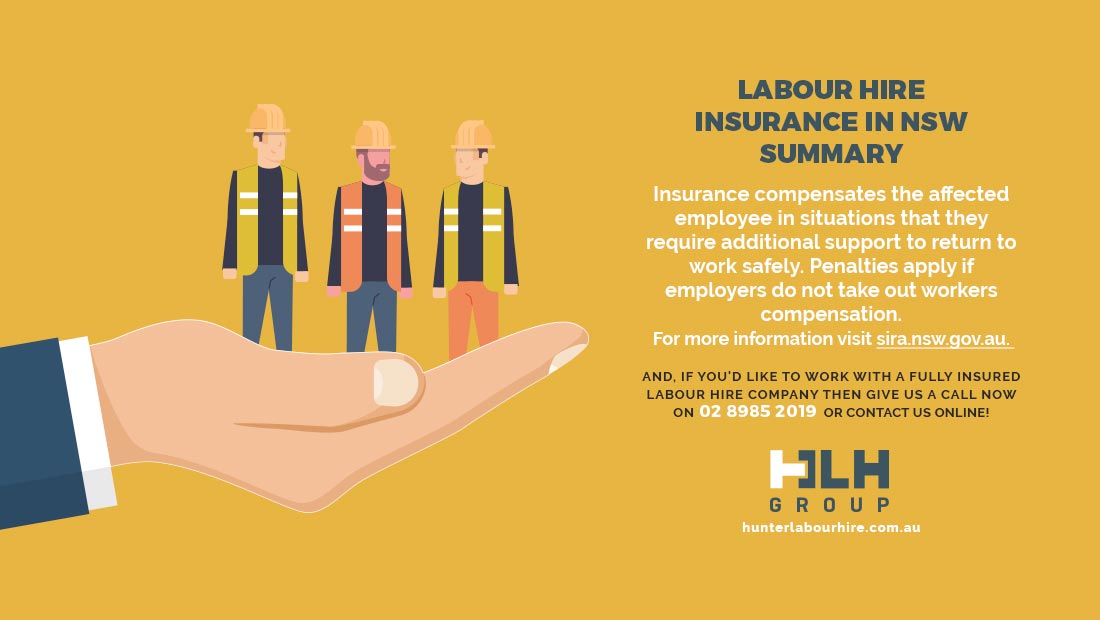 Labour Hire Insurance in NSW Summary
In summary, as stated above, insurance compensates the affected employee in situations that they require additional support to return to work safely. Penalties apply if employers do not take out workers compensation. For more information visit NSW State Insurance Regulatory Authority. And, if you'd like to work with a fully insured labour hire company then give us a call now on +61 2 8985 2019 or contact us online!